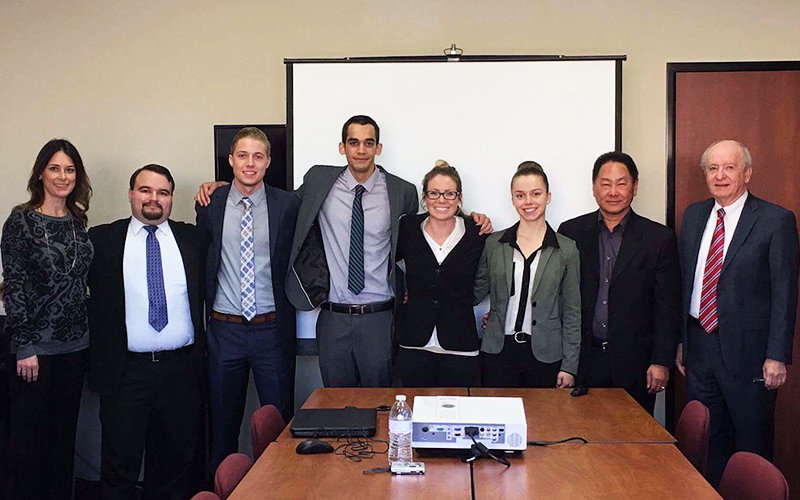 For a quarter of a century, Cal State Fullerton business students, working in teams as part of their capstone class, have taken the top honors or been in the top 10 of the National Small Business Institute Student Consulting Project of the Year Competition.
This year, graduate-level and undergraduate teams were among the top three winners in each of their categories. The work was conducted in 2016.
The graduate-level team, made up of MBA students under the direction of Lorenzo Bizzi, assistant professor of management, achieved second place for their work with the Orange County Fair and Events Center.
The six members of the team are: 2016 graduates Jennifer Pueblo, a contracts supervisor at Inland Empire Health Plan; Hanisha Balani, land development purchasing manager, RSI Communities; Amber Soares, office coordinator, Nature's Specialties Mfg.; Bowen Guan, sales associate, Transpacific Financial Inc.; and Rossana Alvarez. Also on the team was Leo Lee, who is finishing up his master of science degree in accountancy.
The undergraduate team, under the direction of John Bradley Jackson, director of the University's Center for Entrepreneurship who oversees the CSUF Consulting program, took third-place honors in the undergraduate specialized portion of the competition. Their client was the Fullerton College Foundation.
"The foundation had two main concerns: communication with scholar applicants and donors and generating unrestricted funds," explained Stacy Goldstein '16 (B.A. business administration-entrepreneurship) who is now in CSUF's MFA program in screenwriting. "Other concerns revolved around communication with both current and past applicants and recipients.
"The team divided the work among each other and everyone took a different approach," added Goldstein. "My segment was regarding the communication and managing data."
Goldstein said the project helped her strengthen how she handled the initial client contact, "getting to know them, discuss what they wanted, things like that. Something that's really vital to service companies and running a business."
Other team members are 2016 business graduates Johnathon Veta, Andrew Goclowski, Evgeniya 'Jenny' Frolova and team leader Emma Osman, and business administration senior Tristan Schmitt. Mentoring the team was Curtis Chan, founder of Chan and Associates and Cognitive Impact.
Since 1991, Cal State Fullerton teams have won the national championship 10 times  — most recently in 2012 — and been in the top 10 more than 30 times.
Every year, the CSUF Consulting program works with more than 100 clients, matching teams to companies for studies in marketing, operations, finance, accounting and general strategy.
"While our winning record is well-known, what's more important to me is that every semester I am told by multiple students that they learned more doing their consulting projects than in any college class or program," said Jackson, who has had five teams finish in the top 3. "Maybe even more gratifying are the accolades that we get from our alumni who later contact us to let us know how impactful the experience was for them."