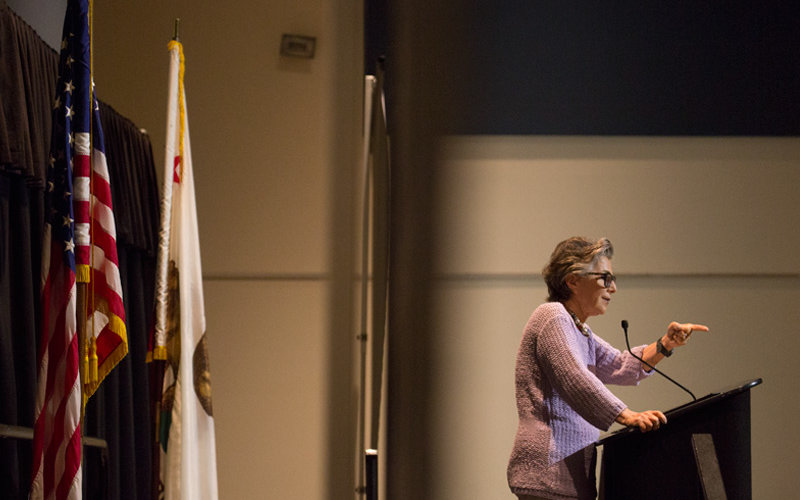 "How do you feel about our country?" asked former U.S. Sen. Barbara Boxer as she addressed several hundred people gathered March 20 at Cal State Fullerton.
"I love being on college campuses because I want to inspire young people to be involved in the politics of YOUR country. Never forget — America was established 'of, by and for the people.' 'We, the People' means you. Not me. Not the president. Not the senate. If you think something is happening that isn't right, you need to fight. You need to try to fix it."
As the keynote speaker launching the start of Humanities and Social Sciences Week, Boxer, who recently authored the book, "The Art of Tough," encouraged audience members not to be afraid to "step up" when necessary.
"Look at the preamble of the United States Constitution," she said. "'We the People of the United States, in Order to form a more perfect Union, establish Justice, insure domestic Tranquility, provide for the common defense, promote the general Welfare, and secure the Blessings of Liberty to ourselves and our Posterity, do ordain and establish this Constitution for the United States of America.'
"The preamble is my favorite part of the Constitution," she explained. "It is short, elegant and to the point. But let's look at it more closely. 'In order to form a MORE perfect union.' Our forefathers understood that we weren't perfect but that we should strive to become more perfect. They wanted a justice system that was fair, they wanted peace at home, they wanted Americans to understand what it might take to promote the general welfare, and how the blessings of liberty shouldn't be taken for granted.
"To me, the preamble shows the intentions of our nation's founders."
Boxer also quoted Martin Luther King, Jr., "…the arc of history is long and bends toward justice."
"The arc doesn't bend by itself," she noted. "We have to bend it. If you don't get involved, you have no right to complain. I know it's easy to get frustrated and angry. I hear things like 'politicians are all alike,' or 'my vote doesn't matter.' That's a cop-out. There isn't a perfect candidate. Like all of us, candidates make mistakes. You look for the candidate that is most aligned with your viewpoints. You need to understand what's at stake."
She also told the audience that no matter what they did, there would be those who "want to shut you up or shut you down. Never be afraid to do the right thing. But don't act out of anger," she warned. "But don't be mean tough. Be strong tough. If you believe that climate change is real, as do 98 percent of scientists, fight for it. If you believe education is important, fight for it. If you value voting, not voter suppression, fight for it. If you believe a democracy shouldn't cozy up to dictators, fight against it."
Boxer advises asking those who disagree with you what they consider American values. "Are there four values where we agree?" she asked. "Then move from there. At the end of the day, it's not about me or you. It's about us.
"And to the students out there, the success of this country is not up to political parties. It's up to you. You have to step up, too. You're ready. You know the preamble to the Constitution. The hope of our nation is in young people working together."