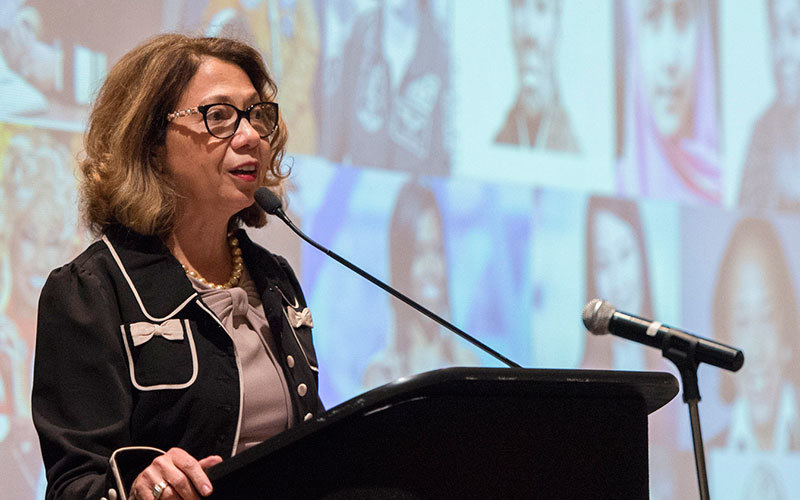 When a school counselor told Vickie Mabry-Height she shouldn't go to college, she persisted. When a recruiter told her the company didn't hire black people, she persisted. When colleagues with less experience were earning more than her, she persisted.
Born in the same year Martin Luther King Jr. was assassinated and raised during the Jim Crow-Jane Crow era of segregation, Mabry-Height persisted to become a physician, businesswoman and author. She shared her inspirational story during a March 23 Women's History Month reception at Cal State Fullerton, hosted by President Mildred García.
"What did I learn? Don't ever give up," said Mabry-Height, who spoke of the daunting dream for "a little black girl like me to decide I wanted to be a doctor."
Today, Mabry-Height is a medical director at General Motors, founder and president of Medical and Compensation Consultants, author of "White Coat Secrets," and has a part-time clinical practice. She is passionate about shining a light on racism, sexism and injustices in the health-care system.
"I hope that, although our backgrounds are uniquely different, you will choose to be a force for good and you will choose to speak up against all injustices," said Mabry-Height. "I hope that you will choose — in the words of Dr. Martin Luther King — to not demand special treatment, but equal treatment."
Following the keynote address, the WoMen's and Adult Reentry Center honored four Titans for exemplary leadership in their work. Nominated by the campus community for demonstrating qualities of confidence, patience, compassion and wisdom, the inaugural Her(d) award recipients included:
Student of the Year: AJ Pollard, psychology and women and gender studies double major
Staff Person of the Year: Ashley Malone, staff member in Student Life and Leadership
Faculty Member of the Year: Eliza Noh, associate professor of Asian American studies
Ally of the Year: Eddie Lopez, health science major
"During the month of March, we celebrate with intention the contributions and accomplishments of women — trailblazing women who have gone first to clear a path for those who are to come," said center director Alisa Flowers, who pointed to two artistic panels displaying campus stories of persisting through stereotypes, -isms, critiques and unfounded opinions.
Another such trailblazer, President García, briefly reflected on her own journey from first-generation college student to the first Latina president in the California State University system.
"It is our collective responsibility to ensure all Titan women — past, present and future — are empowered and emboldened to not only crack their own personal glass ceiling but shatter it for future generations," she said.
"Cal State Fullerton is here to show this and future generations that strong, educated, empowered women benefit everyone and are essential to the growth and success of this nation and all the nations around the world," said García.
The reception also featured several student performances, including Desirae Terrien's violin solo of "Let It Be"; Marissa Armit and Alison Stoneburg's tap dance routine; Reanne Barrett's vocal performance of "Rise Up"; and a Bhangra dance by the Indian Student Association's Saba Afridi, Simran Atwal, Harman Chauhan, Riya Gujral, Navkiran Kuar, Roshni Mapara and Anu Verma.