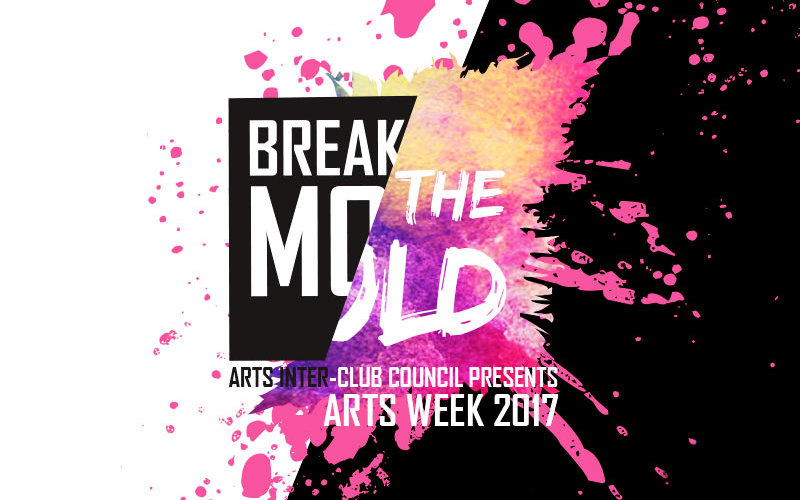 Guest artists spanning multiple disciplines — from glass working to guitar — as well as exhibits, concerts, workshops and theater productions are in store April 9-14 as the College of the Arts and the Arts Inter-Club Council host Arts Week 2017. This year's theme is "Break the Mold" and showcases all fields of study within the college while celebrating student talent.
A full schedule of learning and entertainment opportunities is available online. Among the highlights (admission to the following events is free unless otherwise noted):
Sunday, April 9
Violin Duo Ernest Salem and Jan Talich  
4-6 p.m. in Meng Concert Hall
Professor of Music Ernest Salem and Jan Talich, founder of the Talich Chamber Orchestra and a founding member of the Kubelik Trio, team up for an afternoon of music. Tickets are available online.
Monday, April 10
Break the Mold Mural
Noon-2 p.m. along Titan Walk
This activity will feature a canvas and all the creativity students can muster as they decorate it. 
Guest Artist: Farrah Karapetian
2-3:30 p.m. in Room 295E of the Visual Arts Center
Students will hear from conceptual artist Farrah Karapetian, who creates imagery through "cameraless" photography or photograms.
Tuesday, April 11
Raku Ceramic Firing Workshop
1-4 p.m. in Room 127B in the Visual Arts Center
The Ceramics Club presents a how-to of this ceramics technique, where the work is removed from intense high heat and then cooled rapidly to affect the final outcome. 
Jubilant Sykes: Open Forum
1:15 to 2:30 p.m. in the Hallberg Theatre
Grammy-nominated baritone Jubilant Sykes '79 (B.M. performance) regales students with tales and lessons of his storied career. 
Workshop: African American Concert Dance Legacy
3-4:30 p.m. in Room 281 of the Clayes Performing Arts Center
Participants will learn excerpts from "Rainbow Round My Shoulder," choreographed in 1959 by Donald McKayle. Set on a chain gang in the American south, it is considered a dance masterpiece.
Misty Monroe: Unapologetically Black
6 p.m. in Recital Hall of the Clayes Performing Arts Center
Monroe, who has appeared in "2 Broke Girls," "Angel from Hell" and other series, has a one-woman show that highlights the struggle of trying to fit into black urban and white suburban areas of Los Angeles, navigating through the "Stages of Nigrescence" and coming to grips with her father's drug addiction.
Wednesday, April 12
Virtual Reality
10 a.m.-noon in the Tuffree Room of the Titan Student Union
This exhibit will see a room being converted into a virtual reality experience using an oculus rift headset, allowing users to enter a 3D world.
Trío Ellas
Noon
Quad
Stop by for a performance of the all-female music group, showcasing traditional mariachi music with classic romantic trio, jazz, country and other genres and styles.
"The Merry Wives of Windsor"
8-10 p.m. in the Little Theatre
This student-studded comedy from William Shakespeare follows Sir John Falstaff's attempts to seduce two ladies.
Friday, April 14
Ice Cream Social With Inside Skup
Noon-2 p.m. in the Visual Arts Center courtyard
One of the week's final activities is the traditional painting of the ice cream cone sculpture in the Visual Arts Center courtyard.