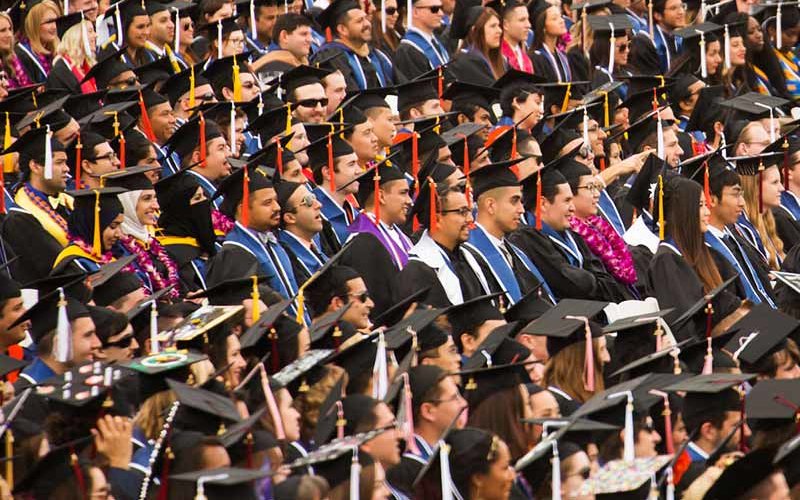 What:
More than 11,600 Titans — graduates and candidates for graduation — are eligible to participate in Cal State Fullerton's May 20-21 commencement ceremonies. Attendees are expected to number almost 70,000 during the weekend festivities.
Who:   
Acclaimed screenwriter, playwright, novelist and CSUF alumna Linda Woolverton will give the keynote address at the Saturday, May 20, celebration; fellow Titan alumnus Bill Ruh, CEO of GE Digital, will keynote the Sunday, May 21, ceremony.
When:
Saturday, May 20, and Sunday, May 21
Where:
Both commencement ceremonies begin at 8 a.m. on the athletics fields north of Titan Gym. College and department ceremonies will follow at various locations (listed below) throughout campus, 800 N. State College Blvd., Fullerton, 92831
Tickets:
No tickets are needed for the all-university ceremonies at 8 a.m., but tickets are required for entrance to all college and department ceremonies that follow.
Broadcast:
The ceremonies will be broadcast live online and may be viewed on the CSUF website and when televised by AT&T U-verse and Spectrum Cable channel 15-202 in Fullerton, Placentia, Santa Ana and Seal Beach. The ceremonies also can be heard on Titan Internet Radio.
Commencement also will be covered on the University's official social media platforms: Instagram, Twitter, Facebook and Snapchat (csufofficial). Graduates are urged to use #CSUF2017 when posting on Twitter and Instagram so posts can be shared on Storify.
Faculty Marshals:
Faculty marshals, by college, are: 

Arts — Gladys Kares, professor of theatre and dance
Communications — Tenzin Dorjee, associate professor of human communication studies    
Education — Ronald Oliver, professor of educational leadership
Engineering and Computer Science — Binod Tiwari, professor of civil and environmental engineering
Health and Human Development — Christine Latham, professor of nursing  
Humanities and Social Sciences — Heping Zhao, professor of English, Comparative Literature and Linguistics
Mihaylo College of Business and Economics — Steven Chen, associate professor of marketing
Natural Sciences and Mathematics — Geoffrey Lovelace, assistant professor of physics
Commencement Eve:
The annual Honors and Scholars Awards program to recognize student achievements begins at 7 p.m. Friday, May 19, in Meng Concert Hall of the University's Clayes Performing Arts Center.
ROTC Commissioning will be held at 10 a.m. Friday, May 19, in the Titan Gym.
Teacher Credential Ceremony will be held at 4 p.m. Friday, May 19, in the tent in the southwest corner of Parking Lot A, south of the Children's Center.
Website:
www.fullerton.edu/commencement
Parking:
Special Commencement 2017 parking permits are required for on-campus parking. Limited to vehicles with three or more occupants, on-campus parking is on a first-come, first-served basis. 
Levels 1 and 2 of the State College Parking Structure and Parking Lot I (east of the Education-Classroom Building) have been designated for the disabled whose vehicles display DMV placard or DP plate; limited shuttles will be available.
Map of the campus is available online.
College and Department Ceremonies
(Approximate starting time is 9:30 a.m., except where noted)
FRIDAY, MAY 19
College of Humanities and Social Sciences
Gerontology — Portola Pavilion, Titan Student Union (program begins at 3 p.m.)

SATURDAY, MAY 20
College of the Arts — Parking Lot D, west of tennis courts/corner of Gymnasium and West Campus drives 
College of Engineering and Computer Science — Titan Stadium
College of Health and Human Development
Nursing — Tent in the southwest corner of Parking Lot A, south of the Children's Center (The pinning ceremony will be held at 3-5 p.m. Sunday, May 21, in Titan Gym.)
Counseling and Social Work — Portola Pavilion, Titan Student Union
College of Humanities and Social Sciences
European Studies, History, Sociology — west entrance of Titan Gym
Criminal Justice, Political Science, Public Administration — Titan Gym
Psychology — Engineering and Computer Science Lawn
American Studies, Liberal Studies, Religious Studies — Meng Concert Hall, Clayes Performing Arts Center
Ethnic Studies (African American, Asian American, Chicana and Chicano Studies), Philosophy, Women and Gender Studies — Little Theatre, Clayes Performing Arts Center
Mihaylo College of Business and Economics
Business Administration-Accounting, Business Analytics, Decision Sciences, Information Systems, Marketing concentrations; International Business and Professional Business (online); Accountancy, Taxation, Information Systems, Information Technology — athletics fields north of Titan Gym
SUNDAY, MAY 21
College of Communications
Cinema and Television Arts, Communicative Disorders, Communication Studies and Screenwriting — west entrance of Titan Gym
Communications — Titan Gym
College of Education — Tent in the southwest corner of Parking Lot A, south of the Children's Center
College of Health and Human Development
Athletic Training, Health Science, Kinesiology — Titan Stadium
Child and Adolescent Development, Human Services — Engineering and Computer Science Lawn
College of Humanities and Social Sciences
Comparative Literature, English, Linguistics — Portola Pavilion, Titan Student Union
Anthropology, Environmental Studies, Geography — Meng Concert Hall, Clayes Performing Arts Center
Latin American Studies, Modern Languages and Literatures (French, Japanese, Spanish and TESOL — Little Theatre, Clayes Performing Arts Center
College of Natural Sciences and Mathematics — Parking Lot D, west of tennis courts/corner of Gymnasium and West Campus drives 
Mihaylo College of Business and Economics
Business Administration – Business Economics, Entertainment and Tourism Management, Entrepreneurship, Finance, Legal Studies, Management, Operations and Supply Chain Management, Risk Management and Insurance concentrations; Economics; MBA programs— athletics fields north of Titan Gym