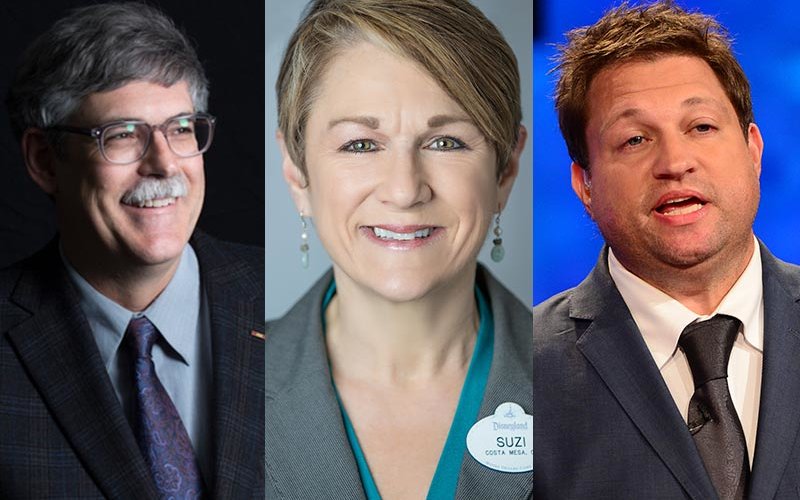 Alumni Walter Baranger '86, a former New York Times senior editor; Suzi Brown '88, Disneyland Resort's director of media relations; and Marc Stein '91, ESPN's NBA writer; are among the headliners for the 39th annual Communications Week (Comm Week) April 24 to 27 in the Titan Student Union.
Highlighted speakers also include: NBC4 News Investigative Producer Amy Corral, Anaheim Ducks Director of Publications Adam Brady, and publishing and digital media executive JR Griffin, who has worked on Google Search Voting for "American Idol" and partnered with Facebook to show real-time voting trends for the show.  
The four-day, student-run conference is produced annually by those enrolled in a communications course on event planning. More than 70 professionals — including many alumni — speak about their careers in public relations, entertainment and tourism, advertising, journalism, human communications, broadcasting and public service.
The experience builds students' teamwork, interpersonal and problem-solving skills as they work in committees to plan the event, said Waleed Rashidi, assistant professor of communications and Comm Week adviser.
"Everything about the Comm Week event planning and management class is the epitome of a high-impact practice, from directly scheduling dozens of professional presentations, to determining types of furnishings needed, to developing our online and promotional strategies," Rashidi said. "Their final product will be shared with and enjoyed by over 2,000 attendees in a fully real-world scenario."
The event's student executive committee includes Annie Cassiano, Hannah Elliott and Alanna Tarango, communications majors studying entertainment and tourism.
The conference extends training outside the classroom for attendees also, by providing networking and learning opportunities from industry experts eager to share their expertise. Speakers and panels target topics that include reaching the Hispanic market, covering music in the digital age, preparing for the job market, working in social media, cultural strategy in advertising, crisis communications, investigative journalism, covering political and social issues, law and family communications.  
A full Comm Week schedule is posted on the event site.
The Daily Titan alumni panel on Thursday, April 27, includes Baranger; Stein; Gene Park '03, social media editor for the Washington Post; Jackie Combs-Nelson '70, former news editor for the Chicago Tribune, and Anita Snow '80, supervising editor for the Associated Press.
The Department of Communications celebrates its 55th year, Thursday, April 27, with a reception and induction of 55 Titans into its Alumni Wall of Fame, at 5 p.m. at the Golleher Alumni House, and the department's annual Awards and Scholarship Dinner at 6:30 p.m. in the Titan Student Union.
Parking for the event is available in the State College Parking Structure, near the intersection of State College Boulevard and Dorothy Lane, at $8 for an all-day permit.
Media Contacts:
Cerise Valenzuela Metzger, 657-278-3708
Paula Selleck, 657-278-4856