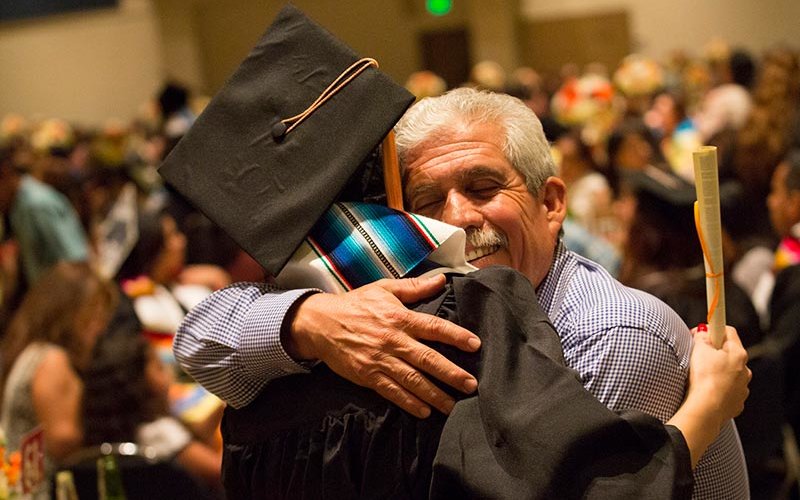 California State University, Fullerton celebrates its diverse student population through a series of cultural recognition events in May leading up to Commencement 2017.
The cultural ceremonies and celebrations are open to all graduating students regardless of ethnicity or sexual orientation. All programs will be held in Portola Pavilion of the Titan Student Union, unless otherwise noted.
Saturday, May 6
1-3 p.m. — 15th Annual Asian Pacific Islander Desi American Recognition Celebration
Reservations are requested and can be made by phone 657-278-3742 or email APARC@fullerton.edu
Sunday, May 7
Noon – 2 p.m. — 29th Annual Pan-Afrikan Student Recognition Ceremony
RSVP: 657-278-3230 or email africanamercenter@fullerton.edu
Thursday, May 11
7 – 9 p.m. — 14th Annual Lavender Celebration for LGBTQ Students
RSVP: 657-278-4218 or email chrisdatiles@fullerton.edu
Friday, May 12
6 – 9 p.m. — 18th Annual Pilipino American Graduation Celebration
RSVP: csufullerton.pgrad@gmail.com
Saturday, May 13
5:30 – 9:30 p.m. — Chicano/Latino and Native American Cultural Graduation Celebration
Info: Rosalina Camacho at 657-278-3238/email rocamacho@fullerton.edu or Elizabeth A. Suarez at 657-217-0738/email esuarez@fullerton.edu
Commencement 2017 ceremonies are scheduled for May 20-21 at various locations on the campus of Cal State Fullerton, 800 N. State College Blvd., Fullerton, 92831. Additional information on the Cultural Student Recognition Ceremonies may be found on the Diversity Initiatives & Resource Centers website.