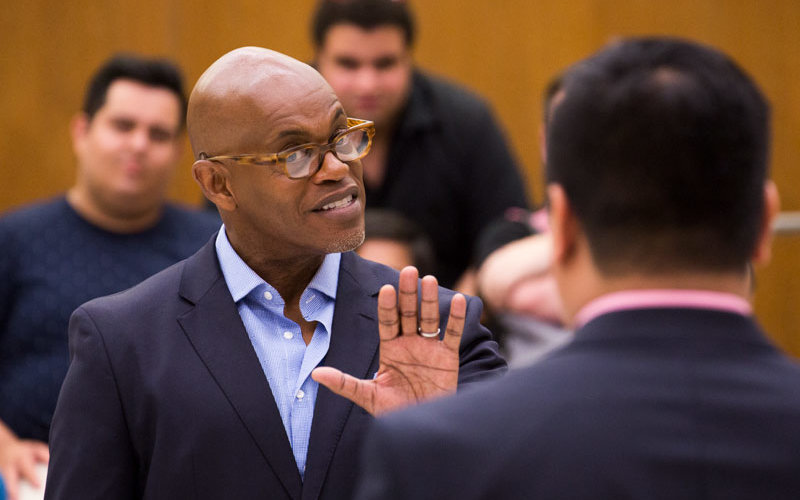 Often referred to as one of America's greatest baritones, CSUF alumnus Jubilant Sykes '79 (B.M.-performance) was back on campus this week for an open forum with students and donors. He also conducted a master class, coaching students in opera, jazz and musical theater.
Willie Huggins, a freshman majoring in theatre arts-musical theater, was excited and nervous before facing the renowned Titan. Huggins would be singing "What Do I Need With Love?" from the musical "Thoroughly Modern Millie."
As he sang, Sykes circled, stopping and starting him. "You don't need the big, exaggerated movements," Sykes commented. "You have a wonderful voice, and the movements distract from it." This continued for 15 minutes until Huggins finally hit the mark that Sykes set for him.
"I know it's challenging, but it's the difference between being nice and being great," Sykes encouraged. "You need to sing from your heart, and I know that scares people. It probably scares you. You have the talent. Trust me. Now show me."
When it was finished, Huggins smiled. "It was challenging," he said. "But he was right about going for authenticity. It makes the song more truthful."
Also singing for Sykes was Madelyn Brown, a junior in music education. "It was scary, and I had a blast," she said after singing the Ella Fitzgerald song "Cry Me a River" and being challenged by Sykes to bring more emotion to the song.
"In this song, a woman has been jilted by her lover, and now he comes back to say he's sorry and he was wrong," Sykes explained. "But you don't believe him. You can either be angry or heartbroken."
"I'm angry," Brown responded.
"Good," Sykes replied. "Be pissed. Your voice is fine, but you need to convey an attitude of 'you mean nothing to me' as you sing this. Don't smile or exaggerate your movements. He's not worth it. Don't sing it pretty. Sing it mad. This guy is a jerk."
Sykes also encouraged the singers to hold notes or lines longer than necessary, to get more emotion. "Don't worry about the piano," he said. "The pianist is watching you. He'll hold the note until you're ready."
Rise of a Titan Voice
Sykes recalled being insecure as a child. "I didn't know what life was going to hold for me. I hid within myself, but when I sang, I had an opportunity to express myself. I think many artists feel that way. It's a way of expressing not only profound pain but hope."
He remembered being a boy soprano in elementary school — a cute, skinny kid. But in middle school, his voice changed … to a baritone.
"I didn't like it," he said. "I couldn't hit the high notes. I felt lost. It was a crazy time."
But teachers noticed and nurtured his talent. In high school, his music teacher recommended Cal State Fullerton because of the outstanding vocal music program and a particular voice teacher, Jane Paul.
Sykes gestured to his former teacher who was in the audience. "This woman here, Jane Paul, scared me to death," he said. "She was bigger than life. I was working on German opera, and I remember her telling me my German was atrocious. But she taught me so much about voice and technique."
Since then, Sykes has not only performed classical music, but also jazz, musical theater and, more recently, acting. In 2015, he appeared in the film "Freedom" with Cuba Gooding Jr. The film focuses on the history of the song "Amazing Grace," as well as a slave family traveling on the underground railroad. Originally, Sykes was approached to sing on the film's soundtrack, but was then selected to portray one of the characters in the film.
He also has acted onstage. In 1990, Sykes landed his first professional gig as Jake in "Porgy and Bess" with the Houston Grand Opera; almost 20 years later he would perform the role of the Celebrant in the Grammy Award-nominated 2009 recording of Leonard Bernstein's "Mass."
His varied repertoire has brought a new dimension to the traditional career of the classically trained vocalist by drawing on gospel and jazz influences.
Sykes has worked with such notable conductors as Kurt Masur, Leonard Slatkin, John Williams and Marvin Hamlisch , and collaborated with leading artists, such as operatic soprano Reneé Fleming, Julie Andrews, Josh Groban and Carlos Santana.
In 2005, Sykes received the university's prestigious Distinguished Alumni Award.