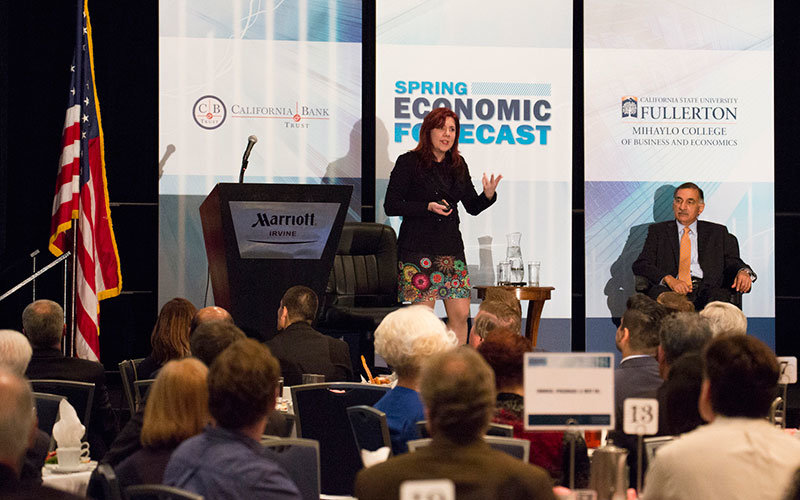 Cal State Fullerton economists Anil Puri and Mira Farka reported a brighter outlook for the economy for the rest of 2017 and into 2018 during yesterday's Mihaylo College Spring Economic Forecast, "Changing Drivers and Shifting Gears: Will the Expansion Continue?"
In the Spring Economic Forecast, the economists laid out their view for a continued expansion of the third-longest recovery since World War II. While there are still risks, overall, strong fundamentals, receding headwinds and a potential pro-growth agenda from Washington should propel the economy forward.
"Things have changed a lot since November," said Puri. "Things have dramatically changed since the election, especially in consumer confidence."
Puri outlined the strong labor market with a low unemployment rate, increasing full-time employment, higher disposable income and improving wages. While Congress and the new administration have a long 'to-do' list and much hinges on their delivery, the economy should continue to grow based on robust consumer spending and improved business outlook.
Farka looked at the last four months and commented, "I don't know about you, but I started out the year with high hopes, euphoria and enthusiasm for a broad fiscal package, tax reform, regulatory reform, right? As of now, however, nothing has materialized." She then compared this feeling to being a passenger on a United flight (with reference to its recent troubles), "I had high hopes from Washington, but just like the passenger in the United flight, my hopes got 'reaccommodated'."
Continuing with the plane analogy, she said: "Welcome to flight 101. Where are we heading? We're facing brighter horizons but some turbulence."
Among the discussion topics was the proposed tax reform announced Wednesday, which included plans to lower the corporate tax rate and slash the seven tax brackets for individuals to three; elimination of the alternative minimum tax, estate and gift taxes; and lower corporate gains. But, Puri stressed, "It is one thing to wish for something, it's another thing to get approved.
"We would have liked to see more structural change in the vein of tax reform," he added, but ultimately between what was proposed by the White House and what gets "hammered out" in Congress, "the final bill will likely be smaller in scope."
Puri and Farka's take on individual taxes: lower individual rates (top rate at 33 percent), no change in itemized deductions, and elimination of the alternative minimum tax, estate and gift taxes. On the corporate side, the two economists expect lower tax rates (around 25 percent), which is higher than the 15 percent proposed by the new administration and the 20 percent by House Republicans.
"There's no crash landing [no recession], there are decreasing headwinds and upgrades to business class," added Farka, continuing the analogy of a plane trip. The upgrades, she explained, would come in regulatory reform, "a regulatory reset," she called it, that would save time and cost to businesses.
"The world economy overall is in a better place than a year ago, manufacturing and energy sectors are on an upswing, businesses are optimistic, things are certainly looking up," Farka said.
Risks to the forecast? Farka said that the main issue is "what comes out of D.C.?" While there is a market expectation of big plans and big change, she worried that it could be "too little or too late, or both. Never underestimate the power of Washington to disappoint," she said.
The second big risk would be China and its elevated debt levels, she added. While the country's debt crisis may not be looming on the immediate horizon, it's an issue of "not if, but when and how deep."
"We have faced lots of headwinds over the past 10 years. Overall it looks good," Puri said. "The future looks better. If anything, these headwinds we've been facing have turned into tailwinds."
Local Outlook
While California job growth fell slightly in 2016 from 2015, the state still added more than 425,000 job, Similarly, Southern California added 194,000 jobs in 2016 at the same rate as the state.
Orange County's employment continued to be robust, Puri noted, but will grow at a smaller rate as "we get closer to full employment."
A positive for the county has been its employment diversity, Puri explained. The leading fields are construction, professional and business services, leisure and hospitality, and high tech.
The most robust job growth in Southern California has been seen in the Inland Empire, where employment grew by 3.5 percent last year.