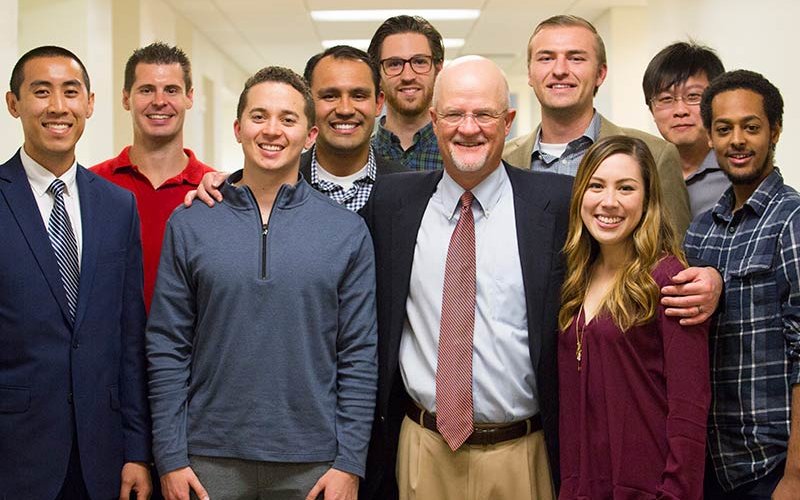 Cal State Fullerton's Applied Security Analysis Program (ASAP) is increasing its annual distribution to the Mihaylo College of Business and Economics, doubling the amount that it has previously given in support of the college's Tutoring Center.
This year's distribution from the student investment program will be $25,000, representing two percent of the current assets in equities and bonds under management. The ASAP investment portfolio is currently valued at $1.3 million.
"It is highly remarkable that the ASAP program is able to give back, especially considering that it is still a young program," said Morteza Rahmatian, interim dean of Mihaylo College.
"The jump in distribution is a reflection of the maturing of the program and the growth of the bond activity activated last year by the donation of alumnus Jeffrey Van Harte," said Michael Milligan, who directs ASAP and it equity program. Marcia Clark oversees the students operating the bond portion.
The giving back to the institution is an important component of ASAP and is stated on the signage for the Titan Capital Management Center: "The best return is giving back."
"It's important that you say what you do and do what you say," says Van Harte '80 (B.A. business administration-finance), chairman and chief investment officer of Jackson Square Partners, who helped finance the initial fund startup, its expansion into bonds and the establishment of the capital management center. "Students are investing to give back to their university, and that is a fundamental goal and tenet of the program, in addition to its academic merits.
"Those words were not put there for show," Van Harte stressed. "I am so proud of the students and their efforts that have made this increase, this additional support of their fellow students, possible."
In addition to its increased distribution to the college, ASAP will host its first annual Titan Capital Management Student Investment Conference April 28-29. College students from throughout Southern California have been invited to the day- and-a-half program to gain hands-on experience in portfolio management.
ASAP's hands-on approach has been instrumental in giving students the skill set sought by such firms as Goldman Sachs, Edward Jones, Deutsche Bank and U.S. Trust.
"These people have had to develop critical thinking, judgment and problem-solving skills," stresses Clark. "They can go into situations and with only basic guides respond and react successfully. This program makes them figure it out and get the job done."
"As a result, these students are going in directions that they never imagined," agreed Milligan, noting the number of students who have graduated and entered the investment field.
Laura Romine, a senior majoring in business administration-finance, agrees. "I partially attribute my PIMCO job offer to the program because ASAP prepared me so well.
"I believe I stood out as a candidate, not only because I possessed market knowledge due to weekly summer economic analysis assignments, but also because of my enthusiasm for this type of work," Romine explained. "You can teach someone facts, but you can't teach them to be interested in finance — that has to come from within. ASAP has grown my passion for investment finance."