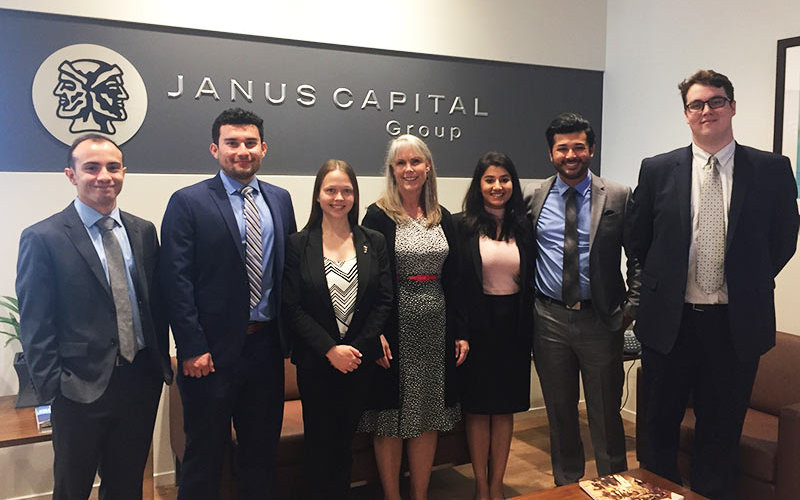 For a group of business majors, the May 5 visit to Janus Capital in Newport Beach was an exciting part of their work in the Applied Security Analysis Program (ASAP).
ASAP is a program in which students manage approximately $1.3 million in University funds: 60 percent in stocks and 40 percent in bonds. The program has grown, as has the annual amount it distributes in support of University.
"Being able to gain real life, practical experience outside of the classroom and normal textbooks, has really put ASAP students ahead," says Derek M. Ventura, one of the students who took part in the Janus visit, in which students presented their investment philosophy and process and described the results they had achieved for the fiscal year.  
Ventura has recently accepted an offer to become a financial analyst at American Credit Acceptance in South Carolina.
During the visit, Janus portfolio managers provided feedback on the students' processes and portfolio structure, as well as insights into describing the risk posture of the portfolio, says Marcia Clark, who oversees the students operating ASAP's bond portion.
"Experiences such as going to Janus Capital Group have been indescribable," says Ventura. "Being able to go to the home office of Bill Gross, the most well known bond trader in the world, and speak with his team and receive feedback on our investment strategies, has made us all better analysts. Not many students are fortunate enough to be in that position."
Students in the ASAP program are selected via a rigorous application process that includes the development and defense of a research report for a designed company, as well as a personal interview with a panel of finance faculty and ASAP board members.
"Once selected, students experience an enriched curriculum, including economic forecasting, security analysis, portfolio construction and performance attribution," explains Clark. "At each step along the way, ASAP board members, drawn from the local investment community, provide support and assistance to help the students refine their investment decision-making process."
Students work in teams and complete three summer 'boot camp' workshops where they are taught the basic tools of security analysis and portfolio construction. Each team develops an investment policy statement for approval, then begins researching market risks and opportunities to identify attractive investments and actively manage their designated portfolio. Performance is measured against the S&P 500 equity market index and the Bloomberg Barclays U.S. Aggregate Bond index.