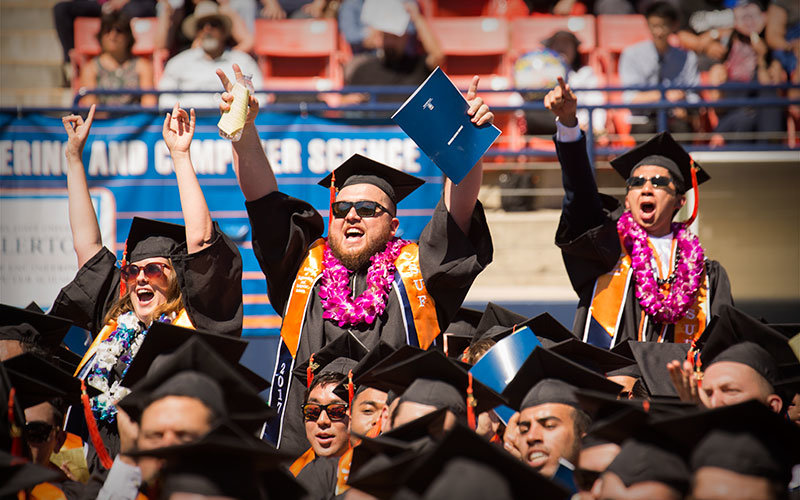 As the music of "Pomp and Circumstance" filled the air, thousands of graduates and candidates for graduation celebrated their milestone achievement with family and friends — crowds of almost 70,000 were on campus during the two days of Cal State Fullerton's commencement ceremonies May 20-21.
Following the procession, led by Faculty Marshal Binod Tiwari, professor of civil engineering and the University's 2016-17 Outstanding Professor Award honoree, CSUF President Mildred García welcomed the Class of 2017.
"It is indeed a wonderful celebration, one that I suspect began last night, ran into the wee hours of the morning and will likely continue through the weekend," she told the audience. "But that's okay, graduates, you earned it, and per tradition, some of you are even boasting about your achievements with messages on the back of your graduation caps. I saw one that said, 'Nevertheless, she persisted,' another that said, 'I can't believe we all wore the same thing,' and one that proudly read, 'Primera Generación!'
"Not to be outdone, families and friends are holding up signs of their own. I saw one father crying with joy, holding up a sign that read, 'Does this mean you're finally moving out?' I also saw a mom holding up a sign that said, 'We're here for you, mija, but dad's still looking for a parking spot.'
"But no matter what it says on the back of your cap or on your family's signs, what language those message are written in, or how long you looked for parking this morning. …You made it; you did it!"
Linda Woolverton: "We decided to create a proactive, intelligent, thinking, reading heroine. One who led with her brains, not her looks."
Screenwriter, playwright and novelist Linda Woolverton, who gained fame for such screenplays as "Beauty and the Beast," gave the keynote address on Saturday. Woolverton began her career by writing scripts for Saturday morning animated television shows. This eventually led her to writing her first animated feature, Disney's "Beauty and the Beast." After its release in 1991, the blockbuster won the Golden Globe for Best Comedy/Musical and became the first animated film to be nominated by for a Best Picture Academy Award.
Woolverton was then hired to write the screenplay for "The Lion King" for which she shares screenplay credit. She rewrote the script for "Homeward Bound: The Incredible Journey," as well as contributed to the animated feature "Mulan."
"What an honor it is to be here on one of the most significant days of your life," said Woolverton as she addressed the crowd. "Most of you have sacrificed a great deal to be here, and you understand the value of your education.
"When I was asked to speak here today, I wasn't sure if I'd have anything of significance to say to graduates of the school of economics or business or math. … I am a writer, a storyteller, an artist. But then I recalled all of the  creative problem-solving it took for you to get here today. You are engaged in the great work of creation that is your life."
She told the graduating students to consider their lives as a tapestry on the wall. What would it look like? Would it be a success after success after great success? Or would it be take the easy way out or the safe path?
"When I am writing, I have to look for the dark-night-of-the-soul moment — that is the moment when all is lost and it's all the character's fault … and they have to look inside and look deep at themselves and know they have failed, and they have to find a way to go on," she said. "The dark night of the soul is imperative for human growth. So if failure is a part of this life, why do we go to such effort to avoid it? And if failure is necessary, why are we so afraid? Can you imagine your life with no fear of failure in it? Everything would open up. You could do anything. If your tapestry had no bleak periods in it, it would be kind of boring. Interesting tapestries are filled with risk, crashing defeats and rising from the ashes and passion and enormous heartbreak. "
"When I was 10 years old, I'd raise my hand in my classroom and I noticed that the boys were usually the ones picked to answer," she continued. "I didn't think that was fair. I became a feminist in elementary school, and I've been a proud feminist ever since.
"As a girl, we were raised in the era of 'someday my prince will come' — if I am pretty enough and I am sweet and I can endure all manner of horrible, cruel hardships from mean stepsisters and stepmothers, and evil witches and jealous queens, make friends with forest creatures, and my foot fit into a tiny, glass slipper, then and only then, will I be worthy of a handsome prince who will appear to save me from my miserable existence. That is what we were raised on, and we bought it.
"When I arrived at Disney they asked me to create a new heroine. So imagine what went through my hippy, feminist brain. I was also fortunate enough to work with lyricist Howard Ashman, who was HIV positive. We decided to create a proactive, intelligent, thinking, reading heroine — one who led with her brains, not her looks.
"I got a lot of pushback for that," she said. "After all, I was up against 50 years of tradition entrenched in princesses.
"But Howard and I pushed back and created a heroine we could believe in. We were fighting for a new icon for girls. Although Howard lost his battle with AIDS, we won by changing the culture. Disney never had another victim heroine again. Today we have Nala, Mulan and Moana.
"Graduates, you, too, can change the tapestry of your life, if you're fearless and creative enough. Fly. Draw a crowd. I'll be watching."
Doctor of Nursing Practice
At Saturday's ceremony, a hooding ceremony was also performed for the candidates for graduation in the doctor of nursing practice program. A doctorate is the highest level of academic degree and accomplishment.
Sunday Commencement Update
Sunday's commencement ceremonies featured Bill Ruh, General Electric Digital's chief executive officer and senior vice president and chief digital officer (CDO) for GE, and the hooding of graduates and candidates in the doctor of education- educational leadership, program.
As CDO of GE, Ruh is responsible for global information technology, as well as creating GE's Digital Thread — a next-generation system for streamlining design, manufacturing and support processes. GE Digital, the company's industrial software subsidiary, is re-imaging industry's infrastructure by connecting software, apps and analytics to industrial businesses, enabling them to operate faster, smarter and more efficiently.
Bill Ruh: You need to control and own your own story. 
"First of all, let me offer my congratulations!" Ruh exclaimed as he stood before the Class of 2017. "You'll never get tired of hearing that this weekend. And starting Monday, it'll all stop, so soak it in."
The two-time Titan alumnus talked about his years as a computer science student graduating with a bachelor's and then a master's degree in the early '80s.
"Do you want me to tell you the two biggest technological advances in the '80s?" he asked. "No. 1: Cuisine would never be the same when McDonald's introduced the chicken nugget. Can you imagine? I went to college without eating a chicken nugget. The second is that Microsoft Word was invented. Prior to that, we worked on Selectric typewriters. Wite-Out was the greatest technology advance of its day. In 1984, Power Point wasn't invented. We also lived without Power Point. Imagine your professors without Power Point!
"Back in 1983, we lived under a constant threat to our society — it was the height of the Cold War. Marine barracks in Beirut were bombed, and that foreshadowed the kinds of threats we see today. Probably more interesting, there was a lot of political strife. We had elected an outsider as president. There was hostility between the parties. Lastly, we were coming out of what we thought was a bad recession.
"What I would take away from this is, you cannot control the economy, politics or society," he said. "Here is a piece of advice: You need to control and own your own story. It helps you live with the ups and downs of the economy."
In order to do so, Ruh provided five principles that he has used over the years.
"First, hope is not a strategy," he said. "Develop a strategy for your career. You need to write down 10 things you would like to accomplish in your career. It sounds goofy as can be, but I wrote them down. When opportunities came along, I would seize them. For instance, I wrote down that I wanted to publish a book. I didn't know anything about writing a book. Now I've ended up writing four of them. It may take you 30 years, but look at the goals you want to accomplish in your career. Take out that list periodically and check it.
"Second, learning starts today. You may think, 'Okay, I'm done with this learning stuff,' but the fact is, we live in a world of high competition. Success comes to those who take charge of their learning. Read. Attend conferences. Seek out opportunities. I graduated with a computer science degree and in five years, I was managing people. I was no longer using computer science. I had to learn how to be a business leader. You don't have to be perfect, but you have to be better than your competition.
"Third. Develop relationships. Find a mentor or sponsors. Mentors are probably the least important — they will tell you what you don't want to hear. Sponsors are committed to helping you in your career. A network will help you find opportunities. And you need to go out and find these people. Online tools are great, but you need to be open to meet and learn from others. Ask yourself, 'Am I listening more than talking?' Be open to new ideas and get to know people.
"Fourth, be a great communicator. In college, I was the worst, most nervous speaker. But I saw that the people who were moving ahead weren't necessarily the smartest, but they spoke with clarity and confidence. I read, learned, practiced.
"Fifth, pick your boss, not your job. When you work for a boss who is inspiring, you'll learn and grow faster. Look for the bosses who can help you be your best and allow you to grow.
"Finally, be bold. Write down your list, then make it happen."