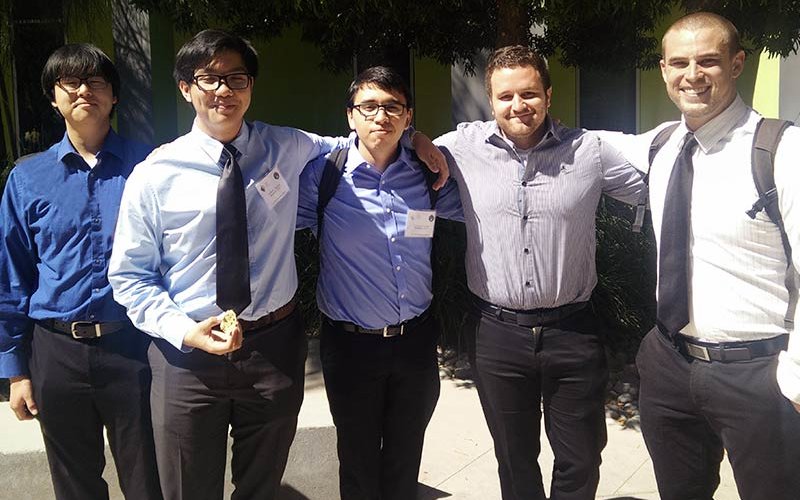 For a team of Cal State Fullerton computer science students, it was done in the name of testing their knowledge as they posed as hackers to successfully breach a fictitious company's computer system. Their feat earned them a second-place award at the recent Management Information Systems Student Association competition at Cal Poly Pomona.
The Information Technology Competition gave the undergraduates — all members of CSUF's Offensive Security Society student organization — real-world experience on the flipside of cyberattacks, said student Tyler McConnell.
"This competition allowed us to perform any type of cyberattacks we wanted on the given system without any repercussions," McConnell said. "After discovering these vulnerabilities in the client's system, we learned how to properly prevent and mitigate these types of attacks."
In addition to McConnell, the other team members are Christian Chavez, Joshua Christ, Sae Hun Kim and Anthony Nguyen.
McConnell added that as part of their case study for the competition, the team was able to acquire sensitive data from the fictitious company, including personal information of their clients, such as social security numbers and medical records.
"With nearly everything switching to digital these days, it is important that real-life companies take the correct steps when it comes to securing their systems," he warned. "Many companies lack security practices — and we were able to see just how easy it is to infiltrate a system with poor security measures."
The team's mentors are Mikhail Gofman, associate professor of computer science, alumna Laura Chiu '14 (B.S. computer science) of Bechtel Corp., Chris Pavan, security expert, and alumnus Reza Nikoopour '15 (B.S. computer science), lecturer in computer science and a security expert. Visit CSUF's Center for Cybersecurity for more information about programs and careers.