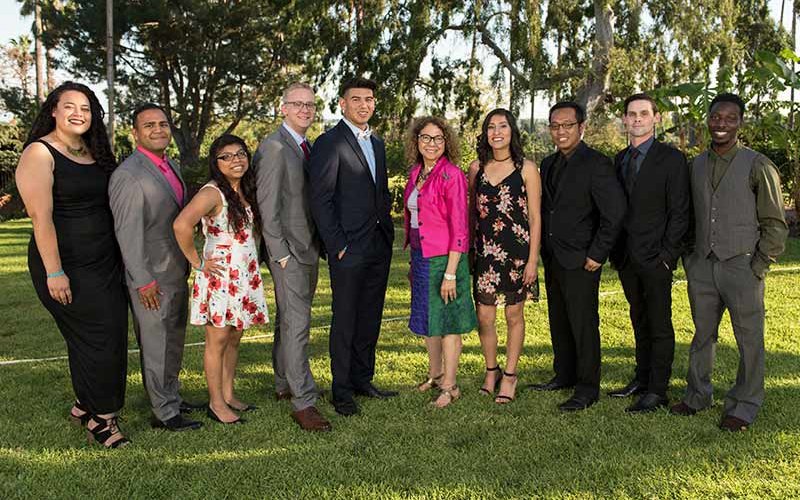 Graduating senior Mark Albert Casas grew up with seven siblings whose mother struggled with mental illness. Although she worked hard to keep the family together, she simply couldn't. Casas ran away from home at 13. While on the streets living with a gang, he wondered, "Will things get better?"
And things did. The former foster youth enrolled at Cal State Fullerton and became part of the Guardian Scholars Program, which supports individuals exiting the foster care system. The program provides students with a range of financial, academic and social support to help them reach their goal of earning a college degree.
"I stand here today, a first-generation college student unafraid, confident and full of love," Casas told the crowd of supporters at the May 3 Guardian Scholars Recognition Reception.
Casas was among the dozen graduating scholars celebrated for their accomplishments, and one of six who shared their experiences as Titans, as well as their dreams and goals for the future. Casas is earning his bachelor's degree in psychology and begins graduate studies in social work this fall at the University of Michigan.
President Mildred García and Berenecea Johnson Eanes, vice president for student affairs, welcomed guests, thanked the program's donors and lauded the graduating scholars for their perseverance, and personal and academic successes.
"We wish you the very best, we are so proud of what you have accomplished," García told the soon-to-be graduates. "We are so glad you have reached your dream; this is only the beginning of your journey — you are going to go even further."
Johnson Eanes echoed the sentiment in her remarks, sharing, "You will always be our family. … Titans reach higher, but Titans take care of each other. We are always here for your every wish, dream and desire."
The scholars program, established on campus in 1998, boasts a retention, persistence and graduation rate of over 97 percent, which reflects the efforts and strength of the program and the students it serves, García noted. García also acknowledged the late President Milton A. Gordon for his passionate support of foster youth, and guidance and leadership for the Guardian Scholars Program, which became a national model.
Student scholars are fully funded through donor, foundation and community support. To date, over 130 Guardian Scholars have attained their college degrees, with a record 15 new scholars joining the program this fall.
In addition to Casas, the Class of 2017 Guardian Scholars are:
Magdalena Montiel Alvarado, child and adolescent development, will pursue becoming a transitional kindergarten teacher.
Antonio Choice, kinesiology-teacher education, will begin the single subject teacher preparation program at Cal State Long Beach to become a physical education teacher.
Michael David Crane, communications-public relations, has landed a job as a foster youth specialist at Golden West College and wants to pursue a master's degree in counseling-higher education.
Joseph Fordjour, communications-public relations, will attend law school and pursue a career as an entertainment and criminal defense lawyer.
Adam Fraga, criminal justice and sociology, plans to pursue a career working with foster youth and a master's degree in higher education.
Myla Garcia, political science, interested in international affairs and humanitarian efforts, she is moving to Benin, Africa, to teach English in secondary schools in the Peace Corps.
Tonya Parker, human services, is pursuing a career working with underserved populations, specifically foster youth, and in the fall, begins a master's degree program in social work at USC.
Maria Pineda, sociology-health and social welfare, currently works with immigrant and refugee children at Crittenton Services for Children and Families and will pursue a master's degree in social work at the University of Michigan.
Romeo Thang, health science, worked as a volunteer in health care and plans to become a registered dietitian.
Tottyona Willingham, business administration-human resources management, and psychology, plans to pursue a graduate degree to work with underrepresented populations.
Joseph Wisdom, biological science-molecular biology and biotechnology, begins studies in the doctor of chiropractic program at Southern California University of Health Sciences this fall.