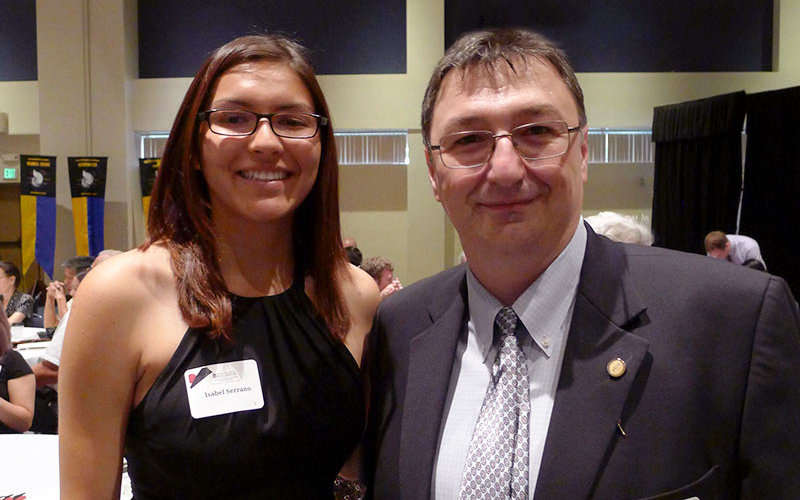 The research work of undergraduate mathematics major Isabel Serrano and her faculty mentor, mathematics professor Bogdan Suceavă, was selected for the anthology "The Best Writing on Mathematics 2016."
Published every year by Princeton University Press, the collection features "the best" mathematics writing from around the world, including their article, "A Medieval Mystery: Nicole Oresme's Concept of Curvitas." The article was originally published in 2015 in Notices, the peer-reviewed journal of the American Mathematical Society.
Serrano plans to graduate in May 2018 with majors in mathematics and history. Suceavă, who also has a prolific literary career, wrote his sixth novel, "The Republic," recently released in Romania. The novel tells the story of an attempted coup d'etat from August 8, 1870, in the old Romania. He also has accepted the invitation of the Romanian newspaper Daily Event to write a weekly column.
Other scholarly works recently published are:
Tajuana Bates, an educator in University Extended Education, has written and published "The YOLO Guide to Los Angeles & Southern California." The guidebook includes digital access to interactive maps for on-the-go planning and navigation.
Mark Ellis, professor of secondary education, is a co-author of "Reimagining the Mathematics Classroom," a comprehensive systems approach to examining elementary mathematics teaching.
Teresa X. Nguyen, an educator in the American Language Program, recently authored "Compelling Conversations: Vietnam," an oral language textbook to help Vietnamese learners.