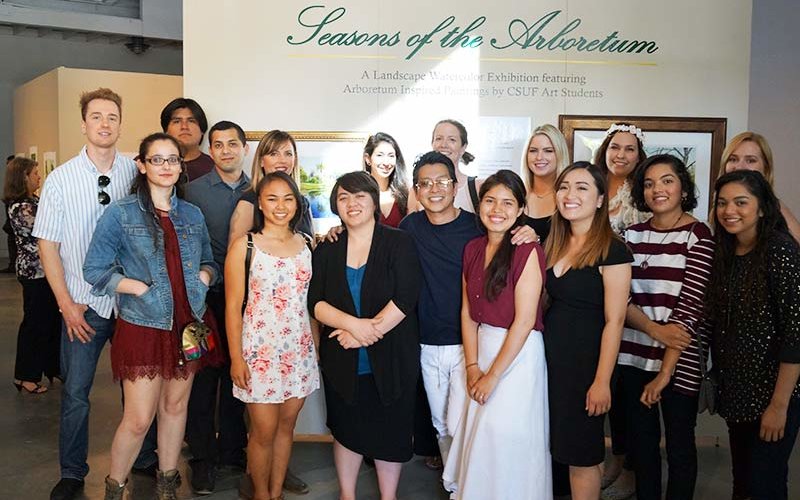 "Seasons of the Arboretum: A Watercolor Exhibition," on display in the Orange County Agricultural & Nikkei Heritage Museum on campus through May 14, features landscape paintings by student artists.
Each semester, Lawrence T. Yun, professor of art, brings those in his watercolor classes to the 26-acre preserve to draw inspiration from the plant collection and "beautiful scenes found only here at the Fullerton Arboretum," he said. "This urban oasis provides an opportunity for students to experience nature and to study its complex beauty," he added.
Yun is a  watercolor artist with multiple solo exhibits and entertainment credits in his  background.
The student artists from Yun's spring semester classes whose paintings are on exhibit are: Lourdes Alvarez, Bianca Alonso, Patricia Alvarez, Cassady Conner Blake-Christ, Irene Perdido Cabal, Angelina Cech, Keauntra Chenet, Marcelle Cordova, Ana Corrales, Mia Costin, Karen Gilstrap, Michelle Hiraishi, Christine Lawrence, Alfredo Mendoza, Ivan Roura, Angelica Ruiz, Vashtty Solorzano, Kaitlin Stover, Eduardo A. Torres, Henry Le Tran and Sarah Woo.
The museum on the grounds of the arboretum is open weekends from noon-4 p.m. and also by appointment during weekday afternoons. The exhibit is free and open to the public. Free parking is available in the unpaved parking lot adjacent to the arboretum at 1900 Associated Road.
Many of the works are for sale by the artists, and a portion of the proceeds will benefit the Fullerton Arboretum's museum exhibition program.
Related story and photos in the Orange County Register and Orange County Breeze.