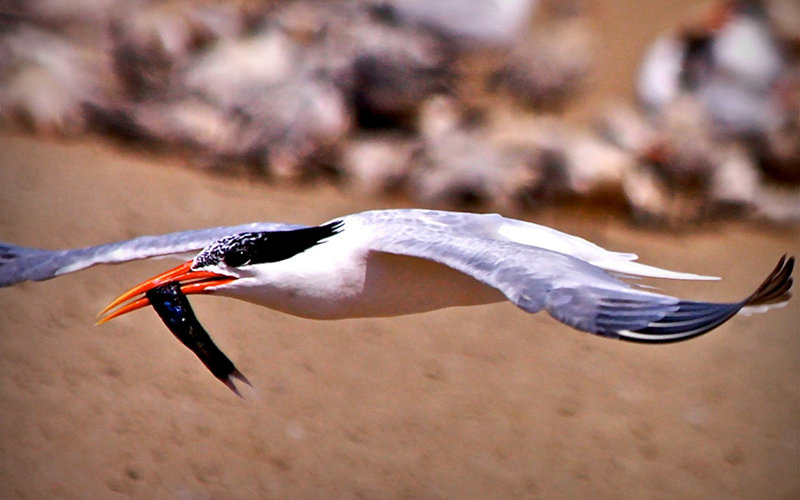 For her master's thesis research, alumna Chelsea (Rankin) Felbeck ventured to Southern California coastal areas to observe the elegant tern, a mostly white seabird with a reddish orange bill and crown of black on its head.
The elegant tern is one of the most abundant coastal seabirds in the region and breeds at three sites in Southern California: Bolsa Chica Ecological Reserve, Los Angeles Harbor and south San Diego Bay, Felbeck said.
Despite their abundance, the seabird colonies fluctuate each year — and Felbeck set out to find out why.
"I sought to determine if the annual changes in nest number were related to prey abundance, ocean conditions or predator disturbance," explained Felbeck, who earned her master's degree in environmental studies last year.
She found no clear association between elegant tern nest numbers and prey abundance — the seabird eats northern anchovies and Pacific sardines — or ocean conditions. Her research results suggest that predator disturbance — from predators like the peregrine falcon and coyote — early in the breeding season can cause the terns to abandon their nesting site and breed elsewhere that year.
For her three-year study, Felbeck has earned the University's 2017 Giles T. Brown Outstanding Thesis Award, an honor given each year to recognize distinguished scholarly achievement at the master's level. Her thesis adviser, Michael H. Horn, professor emeritus of biological science, nominated her for the award.
"She demonstrated that she is a curious student, an independent learner and a persistent investigator willing to learn the new techniques and procedures needed to answer the scientific questions she posed," Horn said.
Felbeck, who earned her bachelor's degree in environmental studies and biology from UC Santa Cruz, called her graduate experience at CSUF life changing.
"I ended up gaining much more experience than I expected at CSUF. I grew so much academically, not only through my classes, but also through the myriad experiences that come with being a member of Dr. Horn's Fish, Seabird, and Conservation Biology Lab," she said.
For her thesis project, she learned how to conduct research from the beginning stages of identifying a research question, to formulating a plan to measure and analyze data and, ultimately, synthesizing the results into a coherent end product.
"This experience served as an important preparation for my doctoral studies," noted Felbeck, who plans to apply to Ph.D. programs in ecology in the fall and pursue a career teaching wildlife conservation at the university-level.
Felbeck presented her research at scientific meetings, including the Waterbird Society's conference in Germany, and is preparing her thesis research for publication in a peer-reviewed marine ecology journal.
"This seabird is fascinating because every breeding season is unique," she said. "There are likely more factors influencing the breeding success of elegant terns than we realize, and we might never fully comprehend the dynamic interplay between organisms and their environment."