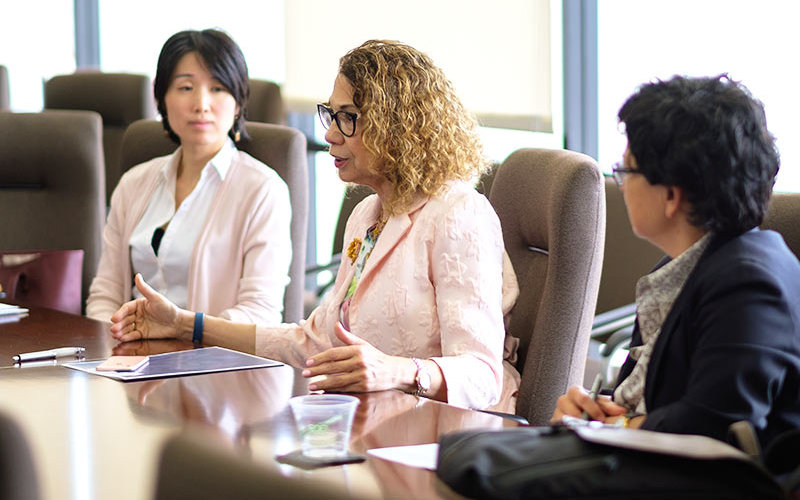 Faculty workshops to increase knowledge about the integration of LGBTQ-related topics into history-social studies classes, a civil dialogue series on diversity-related issues and other efforts to increase awareness of and support for all campus members are being developed as part of a new fellowship program at Cal State Fullerton.
The new program is an offshoot of the establishment of the President's Commission on Equity and Inclusion, which seeks to facilitate campuswide conversations in defining the value and meaning of diversity, equity and inclusion for all.
"This program, along with the diverse faculty, staff and students behind it, aims to elevate Cal State Fullerton into a national model of equity and inclusion," said President Mildred García. "We are proud of the selected fellows and confident their work will have an immediate impact in our campus community, throughout the CSU and beyond."
"The summer fellows program has grown from this endeavor as outlined by President García," explains Mary Ann Villarreal, assistant vice president of strategic initiatives. "The program supports faculty who are designing and implementing projects to improve faculty retention, creating applied research that informs campus practices or pedagogy toolkits, or building strategies that affect programmatic or institutional change throughout the campus community."
One such effort is that of Sharon Chappell's "LGBTQ Inclusion, the Fair Education Act and Implications for Higher Education." The associate professor of elementary and bilingual education has proposed workshops to increase faculty knowledge about changes to the K-12 History-Social Studies Framework to integrate LGBTQ-related topics and the Fair Education Act.
"Given these curricular revisions for younger classrooms, our faculty must be knowledgeable about what it means as we begin to face incoming freshmen who have greater social engagement and awareness of inclusivity and diverse perspectives," says Chappell. "These workshops will identify what has been introduced to our students before they arrive on campus and how we can integrate and enhance that knowledge in our classrooms and thereby deepen LGBTQ-related knowledge through inclusive content, assignments and classroom experiences."
Tara Suwinyattichaiporn, assistant professor of human communication studies, is working on the creation of "Hot Topics, Cool Heads: CSUF Civil Dialogue Series," in which faculty, staff, students and the public can take part in conversations related to issues of diversity. The series of forums will begin Sept. 5. The first forum will deal with immigration.
Suwinyattichaiporn, who is trained in facilitation, says she has always thought that forums are an interesting way to "provide a structured space for every voice to be heard."
Her plan is to have one controversial statement and five seats at the front of the audience during each one-hour forum. Each chair and the person who takes the seat represents a different opinion from strongly agree with the statement to strongly disagree. "The goal is to honor every voice," she explained. "And to do so, we have to respect others, so there will be rules: no yelling, no derogatory words and a time limit."
Other recipients and their projects are:
Alison Dover, assistant professor of secondary education: "Curriculum, Pedagogy and Social Action: Supporting Social Justice Teaching and Scholarship at CSUF"
Alison Marzocchi, assistant professor of mathematics: "Using Mathematics Faculty Learning Community to Support Calculus Faculty and Students"
Satoko Kakihara, assistant professor of modern languages and literatures: "RACE Research and Writing Group Retreat and New Faculty Support"