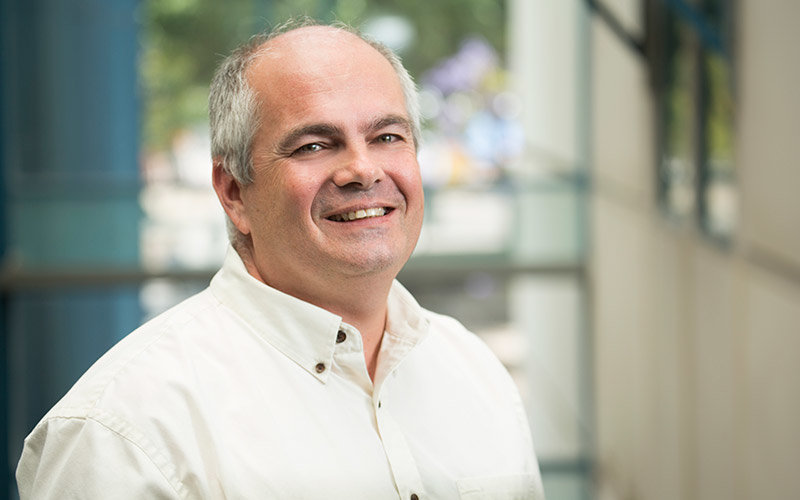 Getting more faculty members involved in shared governance is an area of focus for new Academic Senate Chair Steve Stambough.
"We've had a tremendous number of people hired in the last 10 years," said Stambough, professor of political science, who was elected during the senate's May 18 meeting. "I'd like to see newer people taking part in shared governance."
Stambough served as vice chair of the faculty governing body for 2016-17, as well as in 2010-11. In addition to his senate service, he was chair of the Division of Politics, Administration and Justice from 2012-15, and since 2006, has served as founder and director of the DC Scholars program.
"I think there is a lack of understanding of the importance of shared governance," Stambough added. "I also believe many are overwhelmed, thinking that 'if I just keep my head down and teach and research, the decision will be made elsewhere.'
"But this is something that we as faculty should value — that we can work with administrators and university leaders to help build what we want this institution to be.
"We also have to make sure that we stay on the pathway of collegiality, make sure that we don't burn out individuals who are taking part and serving," noted the educator. "We have to help develop and support faculty perspective."
And this year, Stambough expects big issues to drive much of what the senate and its committees have to face. Following his election, the 13-year campus veteran noted the upcoming Western Association of Schools and Colleges accreditation visit, the proposed budget for the California State University and curriculum as issues to be faced by the senate.
Later, he would add the Graduation 2025 Initiative, a statewide effort to increase graduation rates for all CSU students while eliminating opportunity and achievement gaps.
The effort builds on current campus success, says Stambough, but does call for a "sizable increase" in graduation rates. The initiative's goals: for freshmen — to boost four-year graduation rates to 40 percent and six-year to 70 percent; for transfer students — to increase the two-year graduation rates to 45 percent and four-year to 85 percent.
Currently, 62 percent of CSUF freshmen graduate in six years and 22 percent in four, and for transfer students 75 percent graduate in four years and 32 percent in two years.
"The senate, through its committees, will study what structural issues, i.e., curriculum, and what external issues are holding back efforts to increase the numbers in graduation and how we can help improve those statistics," says Stambough.
"The senate is a place for concerns to be heard," he continued. "We have a voice and means to help shape how Cal State Fullerton leads in education. An active, involved faculty that can collaboratively work with one another and with other educational leaders can help us meet our goals of fulfilling students' educational dreams and becoming a valued member of society. But it only happens when we all take part in addressing these and other issues."