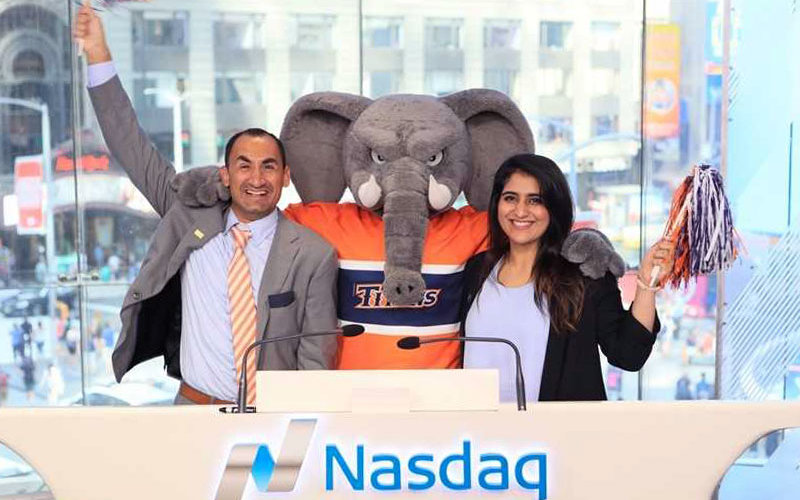 As confetti spilled over them today at Nasdaq's closing bell, three from Cal State Fullerton were among those cheering, in celebration of CSUF's Financial Planning Program being recognized with TD Ameritrade's NextGen Established Program Grant.
David Nanigian, associate professor of finance; business administration major Saba Afridi; and Tuffy Titan traveled to New York City for the festivities, courtesy of TD Ameritrade.
The $50,000 grant awarded to CSUF is one of two program grants awarded to universities. Prairie View A&M University is receiving $25,000 for its emerging program.
The grants are part of an effort to increase awareness of career prospects in financial planning and to encourage more universities to expand their degree programs.
"We're in the midst of a historic wealth transfer to a younger, more diverse generation and at the same time our industry is approaching a shortage of advisers. We as an industry need to work together, right away, and find ways to close that gap," said Tom Nally, president of TD Ameritrade Institutional.
Representing an established program, Nanigian says that he hopes to grow and strengthen the financial planning program, which is part of the business administration, finance concentration major offered through CSUF's Mihaylo College of Business and Economics.
The program features accounting and finance courses on investments, real estate and insurance, as well as retirement and estate planning.
"I am focused on elevating the prominence of the program in the independent financial adviser industry through increasing enrollment, as well as providing students with additional high-impact experiences relevant to the practice of financial planning," noted Nanigian.
To increase student awareness of the program and its career opportunities, Nanigian will appoint student assistants to serve as ambassadors, sharing their experiences about the program and what it offers. Afridi is the first who will serve in this capacity.
"I was honored to be selected for this position and to be able to share what my experiences and how I believe our program is a great career opportunity," said the senior who is on track to graduate next spring. Afridi will be assisting Nanigian on developing the program website, along with a program brochure and reaching out to others through various campus and community events, including an Aug. 4 information session for current undergraduate business students.
Nanigian will be revising the program's capstone course to center around a living case study.
"Recent peer-reviewed research has found that such case studies are effective at improving learner engagement and provide students with opportunities to hone their client communication skills and the creation of financial plans that are truly comprehensive in nature," Nanigian explained. "Such high-impact experience helps strengthen our students skills and readiness to successfully enter this growing field."