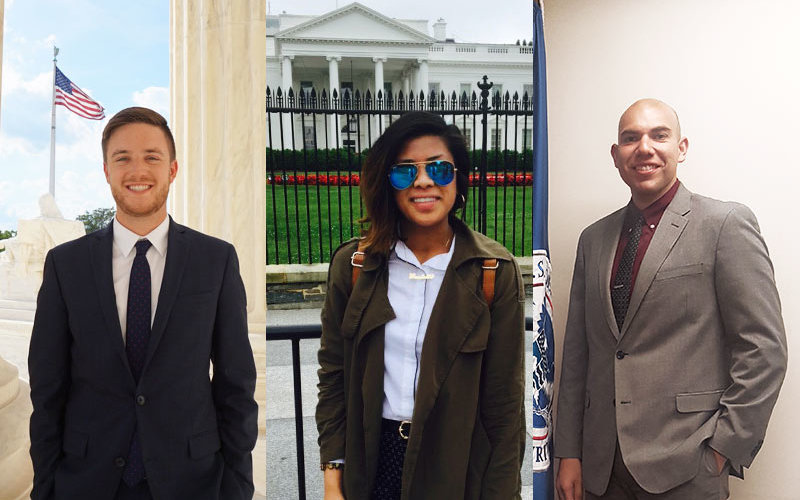 Titan Jared Hill is spending his summer giving tours of the nation's capitol building, researching legislation and writing reports as an intern for Rep. Tom McClintock. His classmate Paulette Maskarino is working in the Ombudsman Office of the U.S. Department of Labor, learning about worker's compensation programs, and fellow Titan Raul Gonzalez is interning for the Department of Homeland Security, Citizen and Immigration Headquarters.
The trio are among 14 Cal State Fullerton students working in Washington, D.C., this summer as part of the DC Scholars Program. Students may work in congressional offices, for nonprofits and advocacy organizations, or in executive and governmental agencies.  
"This internship helped me narrow down which area of the public sector I want to enter, and it has given me the tools to handle challenging situations with constituents," said Hill, a senior public administration major, with a minor in political science.
The work experience is an extension of the classroom, Hill added. "Learning in the classroom about immigration has been a great resource for what I'm handling in my internship. I did the analysis for Kate's Law, which deals with the legal repercussions for crimes committed by undocumented immigrants. The research I provided was used by the congressman when he spoke about the bill on the House floor."
More than 400 Titans have participated in the popular program since it began in 2006, providing juniors, seniors and graduate students of all majors throughout the Cal State University with access and insight into America's political realm. The students live in Washington, D.C., and receive six course units — the internship units and a course focused on the applied world of politics, history, finance and national security, and environmental issues.
For Maskarino, who is studying political science, the experience included opportunities to hear speeches by Sen. Bernie Sanders, Sen. Tim Kaine and Senate minority leader Chuck Schumer, and to shake hands with American civil liberties leader Rep. John Lewis.
"It's opened my eyes to what I can do with my political science degree," said Maskarino. "There has been down time when I am able to personally talk to my supervisors, and they have given me valuable advice for my future. I am truly thankful to be interning under very educated and influential people."
Gonzalez said he's gained skills that will give him an edge in the workforce.
"My stewardship and integrity here at the Department of Homeland Security will define professionalism and discipline, which is what every employer looks for in both the public and private sectors," he said. "Surrounding myself with professional people that share the same interest, immigration in my case, also will enhance my confidence for all upcoming interviews."
This year's summer group is led by Robert Castro, professor of criminal justice, and Allison Varzally, associate professor of history. In addition to the CSUF students, three students from CSU Chico are participating.
"Having Cal State Fullerton students living, working and studying in the nation's capital can be an absolutely transformative experience for them and reflects the great progress that Cal State Fullerton has made in becoming a model for success in experiential learning," Castro said. "In the program, interns routinely engage in high impact practices — like cutting-edge research and policy evaluation — alongside D.C.'s working professionals. This deep immersion in the professional culture of Washington adds both clarity and direction to their future aspirations."
The group was welcomed in late June with an event at the Belle Haven Country Club in Alexandria, Virginia, hosted by alumna Victoria Vasques '76 (B.S. human services) and her husband, Fabrice, and led by alum Jeff Vanderslice '07 (B.A. political science). Sheryl Fontaine, dean of the College of Humanities and Social Sciences, and Lynn Sargeant, associate dean and professor of history, also attended. Vasques announced at the event that she and her husband planned to donate $100,000 to support the DC Scholars program.
Cal State Fullerton's DC Scholars, their majors and internship sites include:
Matthew R. Brazas, '14 (B.A. political science) political science graduate student, Near East South Asia Center for Strategic Studies
Jordan P. Dejean, economics with a minor in political science, U.S. Department of Agriculture
Mark Murillo, political science with a minor in history, U.S. Holocaust Memorial Museum
Sepi Esfahlani, political science, American Association of University Women
Raul Gonzalez, public administration, U.S. Citizenship & Immigration Services
Jared Hill, public administration, Rep. Tom McClintock
Paulette Maskarino, political science, Ombudsman Office, U.S. Department of Labor
Sherine Metayer, public administration graduate student, Department of Health and Human Services, Office of Inspector General, Office of Audit Services
Carlos Ortiz, political science, USDA Foreign Agriculture Service
Kelsey Pierce, history graduate student, Doña M. Marshall, Chief USDA, Office of the Assistant Secretary for Civil Rights Employment Investigation
Alyssa Ramirez, political science, Epilepsy Foundation
Cristian Santana, political science, Office of Rep. Grace F. Napolitano
Peter Reiss, political science, House Foreign Affairs Committee
Sakshi Walia, business, American Institutes for Research
The three CSU Chico student interns are:
John (Jack) Breuker, political science, Republican Party
Alexus Gutierrez, political science, USDA
Bridgit McKay, political science, Office of Rep. Ami Bera
For more information about DC Scholars, the Sept. 18 deadline to apply for the spring program, or the Feb. 12 deadline to apply for the summer program, visit the DC Scholars site.