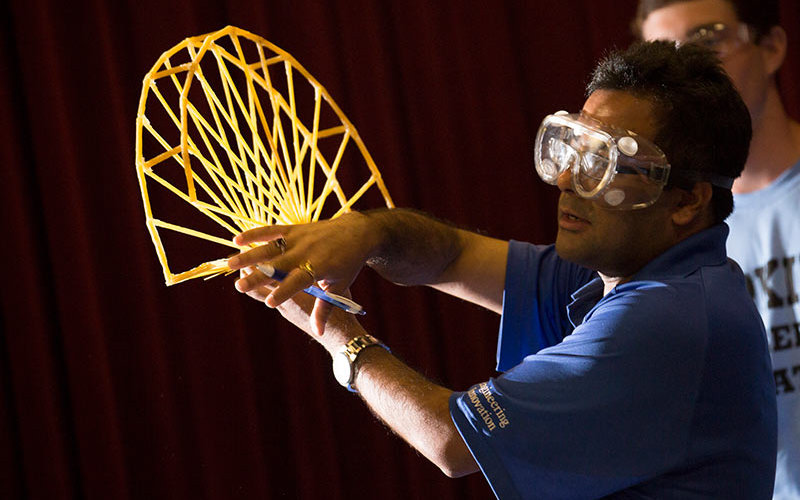 High school students from Orange County and area schools will put their engineering knowledge to practice on Friday, July 21, during Engineering Innovation's Spaghetti Bridge contest.
This summer, 45 high school students, including international students from Canada, China and Turkey, are enrolled in Engineering Innovation, a program offered through a partnership between Cal State Fullerton's College of Engineering and Computer Science and Johns Hopkins University.
The 11 a.m.-12:30 p.m. competition in the Titan Student Union's Portola Pavilion completes the four-week program, where student teams spend the last week designing and building a bridge using dry spaghetti and epoxy, then test it to see how much weight it can hold — before breaking. CSUF holds the program's bridge-breaking record, with the winning bridge last year supporting 169 pounds. More than 460 students will compete in Spaghetti Bridge contests at 12 program sites around the country.
Offered on campus since summer 2006, the program gives students the chance to explore engineering concepts and the opportunity to earn Johns Hopkins University credit.
By applying knowledge of math and science to labs and hands-on projects, the concepts learned in high school classrooms are linked to real-world practice, said Binod Tiwari, professor of civil and environmental engineering and 2017 Outstanding Professor. Tiwari teaches the course with Beena Ajmera, assistant professor of civil and environmental engineering.
"Introducing engineering to high school students will help them understand how worthy it is to pursue an engineering career and, at the same time, how demanding engineering curriculums are so that they can make a wise decision in choosing their college major," Tiwari said. "We familiarize students with different engineering disciplines through hands-on laboratory projects so that students use their knowledge of mathematics and science to plan, design, build and test different projects."
Students attend college-level lectures, solve problems, test theories and, ultimately, learn to think like engineers. They complete lab activities in computer engineering, chemical engineering, electrical engineering, material science, civil engineering, robotics and mechanical engineering. Students also prepare a presentation in response to a "request for proposal," learn about engineering economics, write a research paper, take weekly quizzes and complete a comprehensive final exam.
Media Contacts:
Binod Tiwari, Civil and Environmental Engineering, 657-278-3968 
Debra Cano Ramos