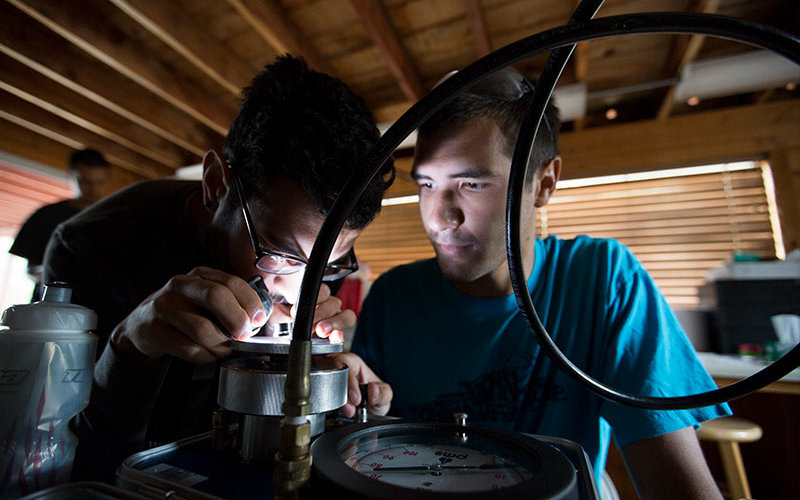 Programs that support students interested in advanced degrees in the sciences and provide after-school mentorship and hand-on experiences, studies into minority health issues, and student internships received more than $9 million in grants and contracts for the fourth quarter of the academic year. Among the awards are:
Deborah Diep, director of the Center for Demographic Research: $2,022,036.82 award from Orange County Interests for "Development of Demographic Data & Support Products Project."
Mark Ellis, professor of secondary education; Ruth Yopp-Edwards, professor of elementary and bilingual education; and Martin Bonsangue, professor of mathematics: $1,674,989 for the initial three years of a five-year National Science Foundation award for "Advancing Teachers of Mathematics to Advance Learning for All."
Laura Gil-Trejo, director of the Social Science Research Center: $1,059,044 from the Sonoma County Junior College District as Santa Rosa Junior College for a "2017 Survey of Former Community College Students" project; $284,157 from the Air Resource Board for "Estimating the Number and Usage Pattern of Small Off-Road Engine Equipment Within California — a Residential and Commercial Survey"; $200,050 from Harder+Company Community Research for "CalOptima Member Needs Assessment Services" project, as well as $25,961 for "Accion Microfinance Study" project; and $35,152 in additional funding from the Regents of the University of California, Santa Cruz, for "Youth Health Study Follow-Up Survey and Ongoing Contract Information Update."
Dawn Macy, director of the Center for Internships and Community Engagement: $853,260 Tustin Unified School District award for "Titan After School Education & Safety (ASES) Program." Macy also received a $9,218 Project Access Resource Centers award for "Titan Tutors  2017-19." Related article: College, Elementary Students Learn From Each Other in After-School Program
Susamma Barua, interim dean, College of Engineering and Computer Science: $600,000 County of Los Angeles, Department of Public Works award for "Information Technology Student Interns."
Stephanie Vaughn, director and professor of nursing: $497,244 award from the Department of Health and Human Services, Health Resources and Services Administrator, for "EMBRACE: Enrichment Markers of Better Relationship, Academic and Cultural Enhancement."
Amybeth Cohen, professor of biological science: $456,071 from the National Institutes of Health to continue the MARC (Maximizing Access to Research Success) U*Star program. The nationally funded program, entering its 22nd year, supports underrepresented students interested in pursuing advanced degrees in biomedical or behavioral research. Related article: Expanding Research Horizons
Janice Myck-Wayne, professor of special education: $250,000 California Commission on Teacher Credentialing award for the "Integrated Pathway for Teaching Special Education" project.
Ryan Nichols, professor of philosophy: $217,390 John Templeton Foundation award for the "How Did East Asian Religion and Morality Culturally Evolve?" project.
Archana McEligot, professor of health science: $214,140 in third-year funding from the National Institutes of Health-National Institute on Minority Health and Health Disparities for "Big Data Discovery and Diversity Through Research Education Advancement and Partnerships."
Kyeung Hae "Karen" Lee, assistant professor of social work, and Mikyong Kim-Goh, professor of social work: $200,000 Korean Community Services award for "A Culturally Competent Model for Integrated Care."
Catherine Brennan, assistant professor of biological science: $139,100 award from the National Institutes of Health for "Using Psidin to Study the Regulation of Phagocytosis Vs. Autophagy Pathways."
Nikolas Nikolaidis, associate professor of biological science: $104,325 National Institutes of Health award for "Interaction Between HspA1A, a Seventy-kDa Heat Shock Protein and Lipids in Stressed Cells."
Sora Tanjasiri, chair and professor of health science: $100,000 award from the California Endowment for the "Health Career Opportunity Pipeline for Mental Health."
Tami Foy, director of the Office of Research Development: $91,756 National Institute of Health/Eunice Kennedy Shriver National Institute of Child Health & Human Development award for the "CSUF Research Gateway Project."
Ruth Yopp-Edwards, professor of elementary and bilingual education: $66,599 in third-year funding from the California State University Office of the Chancellor for "Preparing a New Generation of Educators: Technical Assistance, Scaling and Sustainability" project. Related article: Education Professors Help Lead CSU Teacher Initiative
C. Jessie Jones, professor emeritus of health science: $52,000 St. Jude Hospital award for "CSUF Social Work Interns."
Scott Parr, assistant professor of civil and environmental engineering: $47,255 in additional funding from Louisiana State University for "Enhancing Guidance for Evacuation Time Estimate Studies."
Kathryn Glasswell, associate professor of literacy and reading education: $37,872 Orange Unified School District funding for the "Summer College for Kids-Orange Unified (2017)" project.
Michele Wood, associate professor of health science: $37,153.78 from the State of California/Governor's Office of Emergency Services for "Planning Community Outreach and Education for California Earthquake Early Warning Project."
Shana Charles, assistant professor of health science: $35,000 UCLA award for project "California Health Benefits Program Policy Analyses" and a $12,272 augmentation of a 2016 award from the California Endowment/UCLA Center for Health Policy Studies. Related story: Charles Reports on 'State of Health Insurance in CA.'
H. Jochen Schenk, professor of biological science: $29,952 Metropolitan Water District of Southern California award for "Measuring Sap Flow in Avocado to Reduce Irrigation" project.
Geoffrey Lovelace, assistant professor of physics: $25,493 National Science Foundation award for "Computational Gravitational-Wave Science and Education in the Era of First Observations."
Nicholas Salzameda, associate professor of chemistry and biochemistry: $25,000 Allergan Foundation award for "CSUF Research and Education in Drug Discovery Program."
Joshua Der, assistant professor of biological science: $17,918 Washington Tree Fruit Research Commission award for "Enhancing Reference Genomes for Cross-Cultivar Functional Genomics."
Min Choi, lecturer in management: $17,248 award from Arizona State University for "Scan-Based Trading: Opportunities for Enhancing Supply Chain Efficiency" project.
Teresa Crawford, professor of elementary and bilingual education, and Kim Case, lecturer in elementary and bilingual education: $15,928 award from the Placentia-Yorba Linda Unified School District for the "Summer English Language Development-Art Camp 2017" project.
Stacy Mallicoat, professor of criminal justice and chair of the Division of Politics, Administration and Justice: $12,000 from the John Randolph Haynes and Dora Haynes Foundation for "Preventing Recidivism Among Orange County's AB-109 Offenders."
Kristijan Kolozvari, assistant professor, and David Naish, associate professor, both of civil and environmental engineering: $9,516 award from the Mehrain Naeim International Inc., for "Experimental Testing of Hugging Frame Steel System (Seismic Testing)."
Nina Robson, assistant professor of mechanical engineering: $8,000 in supplemental National Science Foundation support for "Collaborative Research: ARWED-Augmented Perception for Upper-Limb Rehabilitation."
Robert Robinson, assistant professor of political science: $5,000 American Psychology-Law Society grant for "Reducing Cultural Polarization Using Aporetic Reasoning." The grant is funded by the American Psychological Association.
Stacy St. James, coordinator of the South Central Coastal Information Center: $3,500 from the California Department of Parks and Recreation in support of the center.
Melissa Montgomery, assistant professor of kinesiology: $3,000 award from the Far West Athletic Trainers' Association for "The Effect of Pulsed Dynamic Compression on Subjective and Objective Measures of Recovery Following Intense Exercise."
Tricia Kasamatsu, assistant professor in kinesiology; $2,165 award from the Far West Athletic Trainers' Association for "Athletic Trainers' Paper Vs. Electronic Documentation Behaviors: Implications for Elevating Patient Care and Professional Recognition."