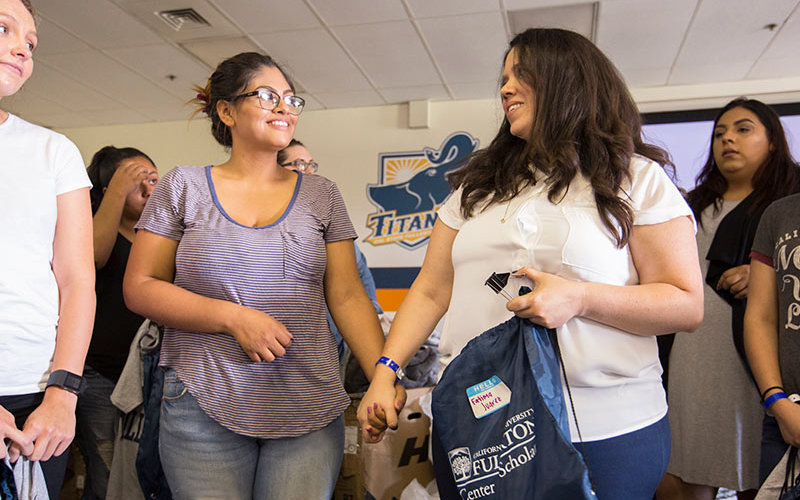 Expanding the reach of its nationally recognized Guardian Scholars program, this fall Cal State Fullerton will provide support to an additional 40 foster youth and offer a new ally training for faculty and staff.
"After researching the CSUF foster youth population who were not in the Guardian Scholars program, we learned that many were struggling to succeed in college," said Yajayra Tovar, assistant director of the Center for Scholars.
The 40 foster youth will join the University's current cohort of 47 Guardian Scholars in receiving a variety of support services, with the exception of a full scholarship, such as life- skills workshops, community enrichment activities, counseling, and access to a student lounge and computer lab.
In addition, 23 incoming students from the two groups had the opportunity to participate in a July 19-21 Guardian Scholars Summer Experience. Easing the transition from foster care to college, activities included a student panel, self-identity workshop and introduction to campus resources.
The orientation also featured a presentation of gifts from several community partners — Orangewood Foundation, OC United, Together We Rise, and Bed Bath and Beyond — including bedding, pillows, linen, towels, clothes hangers, hampers, bikes, bike locks, water bottles and gift cards.
"Basically the community came together to ensure that these students will have a positive experience as they transition into CSUF," said Tovar. "The immense amount of support they have already received, and will continue to receive, is critical as they begin their academic and life journey at CSUF."
Established on campus in 1998, the Guardian Scholars program has supported more than 130 students to date in attaining their college degrees. The program is fully funded through donor, foundation and community support.
This fall, the Center for Scholars will host a two-day Foster Friendly Ally Training for faculty and staff. The Oct. 13 and 20 training will discuss the unique experiences of foster youth, how trauma impacts behavior and learning, and ways to support the students. For more information, call 657-278-3458.