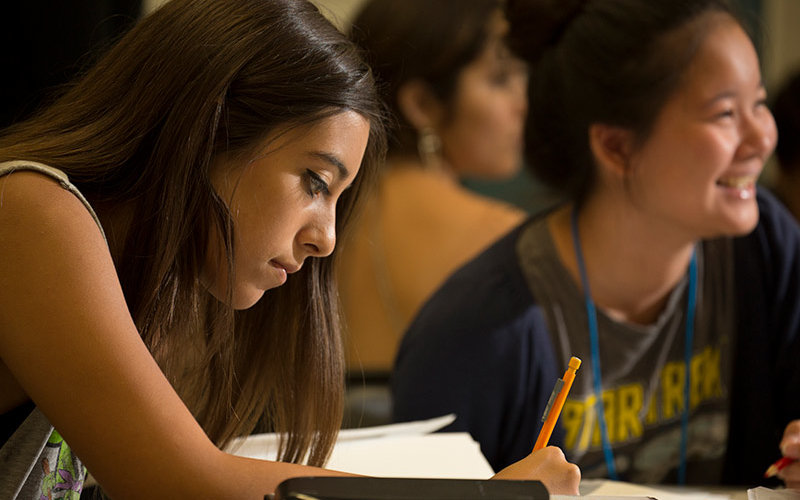 Fifty high school girls from Orange County and the region are spending July brushing up on their math skills through Cal State Fullerton's Project MISS — Mathematics Intensive Summer Session program.
Project MISS is offered to 10th- and 11th-grade girls who spend four weeks diving deep into algebra II and precalculus. The weekday program aims to assist college-bound young women enhance their mathematics skills — and the goal is to increase the population of female students who choose careers in the sciences, engineering and mathematics (STEM).
This summer's participants, in which 67 percent are Hispanic and 21 percent are Asian-American, hail from 22 area high schools in 18 cities across the region. The program culminates on Friday, July 28, with a MISS luncheon.
David L. Pagni, professor of mathematics, has been directing the program since 1990 and not only makes math appealing, understandable and fun for young people, he's also won numerous awards for his work — from the campus with the 1993 Outstanding Professor Award to the White House.
This year the program is incorporating California Common Core State Standards for Mathematics, as well the Common Core Standards for Mathematical Practice, which describe varieties of expertise that mathematics educators at all levels should seek to develop in their students, Pagni said. As part of MISS, students also learn to write code for programming on a graphing calculator they receive as part of the program.
Of the more than 1,700 female high school students who have completed Project MISS, about 98 percent of the participants go on to college — many the first in their family to attend a university, Pagni said. Additionally, about 34 percent of the participants enroll at CSUF. Some Project MISS alumni have gone on to careers in teaching, as well as industry.
Marie Johnson, dean of the College of Natural Sciences and Mathematics, will be the guest speaker Wednesday, July 12, followed by four female engineers from the Fluor Corp., who on Thursday, July 20, will share how math is an integral part of their careers.
Project MISS teachers, all female, are CSUF graduates who are enrolled or just completed the teaching credential program for high school mathematics teachers. Tutors, also female, include CSUF undergraduate math majors, as well as students who were past participants in the MISS precalculus program.
Industry supporters are Fluor, Southern California Edison, Beckman Coulter Inc. and Allergan.
Media Contacts:
David L. Pagni, Mathematics/Project MISS, 657-278-2671
Debra Cano Ramos