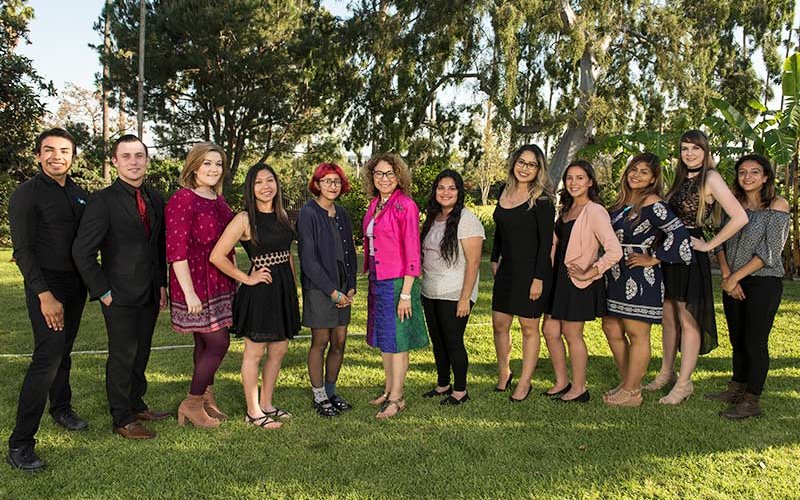 Cal State Fullerton has welcomed 15 former foster youth to the campus as this year's class of incoming Guardian Scholars.
The Guardian Scholars program awards former foster youth a full scholarship to the University and provides additional assistance to help them succeed in their educational endeavors. The program is a working partnership between the private sector and public agencies.
The program, the first of its kind, was established at Cal State Fullerton in 1998. Since then, more than 100 Guardian Scholars have earned CSUF degrees.
Among the program's alumni: Tim Alexander, who earned a B.F.A. in theatre arts with a concentration in acting in 2015 and went on to complete a master's degree in education-higher education this year.
"My entire life, all I wanted was a place to call home," he said about being a part of the Guardian Scholars program. "No matter how far I go, Cal State Fullerton and my time here will always be my home."
"The Guardian Scholars program is the most amazing program on campus," said Dylan Schmoll, an incoming scholar majoring in theatre and dance. "Its team of insanely superb mentors take care of their students before any other responsibilities. Without them, college honestly wouldn't be an option for me. The program is all inclusive, and its staff always have their doors open to talk. I'm so glad to be a part to the Guardian Scholars family."
This year's scholars are:
Enrique Barragan, business administration
Andres Beltran, sociology
Juston Berks, sociology
Samantha Renee Braun, psychology
Paris Flores, undeclared
Sunny Marie Graham, undeclared
Janet Hernandez, child and adolescent development
Karen Marie Hernandez, psychology
Heidi Hurtado, liberal arts
Melanie Martinez, kinesiology
Danae Nicole Rodriguez, undeclared
Fatima Juarez Sanchez, psychology
Sarah Ann Stone, communications
Destiny Vasquez, English
"Their resiliency, strength, leadership and commitment to their academic, career and personal goals has inspired us and earned them an amazing scholarship opportunity," added Yajayra Tovar, assistant director of the Center for Scholars. "Our commitment to the scholars is to provide holistic support and high-impact college experiences that will allow them to reach their fullest potential and successfully graduate."