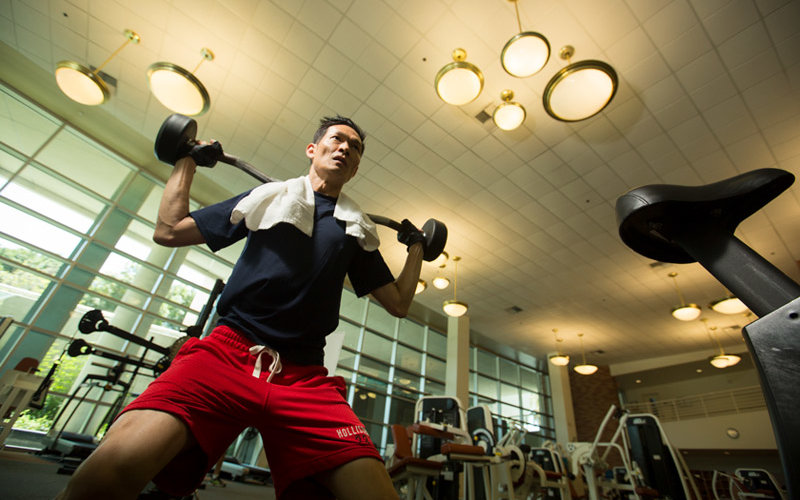 Whether it's a bit of swimming at lunch, a break with a bit of yoga or a workout to buff up some muscles with cardio and weights, faculty, staff and administrators can find it all without having to leave campus.
Begun in 2003, the Employee Wellness Program offers year-around strength and conditioning sessions, women's workout courses, open-lap swimming and yoga programs. Instructors are graduate students in the kinesiology program and undergraduate student interns.
"We're geared to offering something that hits every aspect of fitness through a wide range of services that meet the needs of faculty and staff members," says Christine Quiros, coordinator of the program and a 2013 kinesiology alumna.
"It's not only a great place to work out with the assistance of very knowledgeable kinesiology students and graduates, it is also a great place to meet people from all over campus and make wonderful friends," says Jill Rodriguez, an administrative analyst in the College of Health and Human Development, who has frequented the open-exercise sessions and the yoga classes for years. "We get a great workout, often doing more than we ever thought we could, and have fun with our EWP friends."
This fall's programs begin Aug. 21 and continue through Dec. 15.
Exercise sessions are offered Mondays-Wednesdays or Tuesdays-Thursdays, but participants can attend any day or even daily. Open exercise sessions are offered at 11:45 a.m.-1:30 p.m. and 5-6:45 p.m. Mondays-Thursdays, as well as 11:45 a.m. to 1:45 p.m. Fridays. Women's-only exercise sessions are offered 1:30-2:15 p.m. Mondays-Thursdays. 
Open-lap swimming is offered Mondays through Fridays from noon to 1 p.m.
Yoga classes are offered from noon to 12:50 p.m. Mondays-Wednesdays or Tuesdays-Thursdays either for 8- or 16-weeks.
Exercise sessions are held in the 5,000-square-foot Lifespan Wellness Center, Room 001 of the Kinesiology-Health Science Building. The yoga classes are offered in KHS Room 203. For more information, check out the EWP website or email employeewellness@fullerton.edu.