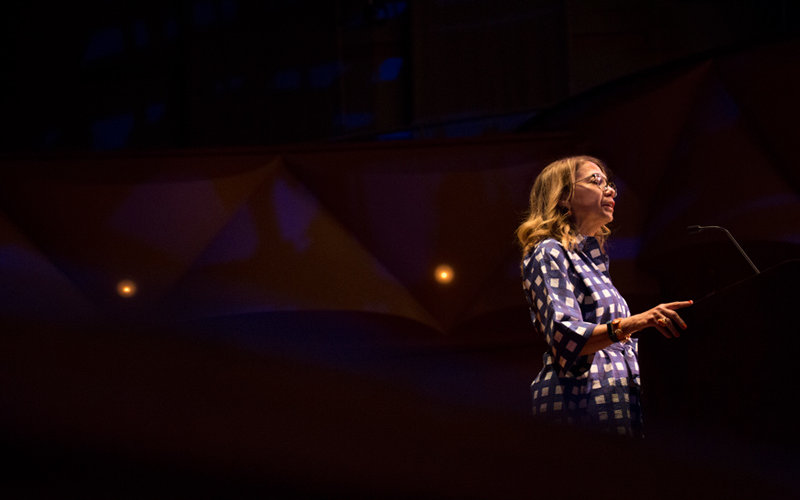 President Mildred García used her Aug. 14 convocation remarks to, in part, address the recent violence in Charlottesville and speak to the balance that must be found on our campus between free expression and protecting our core value of embracing diversity.
García noted that over the past 60 years, California has gone from being more than 90 percent Caucasian to becoming the first "majority-minority" state in the continental United States.
"Our success in adapting to this change makes us both a national model for equity and inclusion, and, in some ways, a target for those who've recently been emboldened to lash out against it in ways we haven't seen since the Civil Rights movement," she said.     
"Now let me be clear: I believe Cal State Fullerton must allow controversial voices from all sides of every argument to speak on our campus. As educators and Americans, we must walk that fine line between First Amendment rights and hate speech, upholding the Constitution while protecting those hurt by these words and actions."      
She described how one of her neighbors has flown a Confederate flag within sight of her home, El Dorado Ranch, that is the site of many University events.     
"I believe in that man's right to fly that flag on his personal property," she said. "But I knew that hundreds of Titans would be driving by that flag to visit my home. I recalled the words of Martin Luther King, Jr. who said, 'There comes a time when silence is a betrayal.'       
"With this in mind, I began every event at the house with a welcome speech announcing that Cal State Fullerton is the antithesis of everything that flag stands for … I share that all Titans, including Caucasian men, are embedded in Cal State Fullerton's definition of diversity, and that everyone deserves a voice in the civil discourse that is critical to the transformative experience of higher education — regardless of where they're from, how they got here, who they love, what gender they identify with, how much money they have, or what God they pray to. We all have the voice, and I believe, now more than ever, it is a betrayal to remain silent, particularly for those who may be frightened in this political climate.    
"Our mission statement and the mission statement of other institutions across the country speaks to this truth with language that publicly affirms a welcoming, inclusive and safe environment for all students. So when our DACA students are threatened with deportation, or the Muslim members of our campus community are subjected to travel bans, or the legitimacy of Black Lives Matter is called into question, or our LGBTQ students fear losing their well-earned rights, we are obligated to speak out not just on moral grounds, but also by the very tenets we agreed to uphold by accepting a role at this institution.
"Our fellow Titans will continue to grapple with complex, emotional and political issues, providing us with the opportunity to support them in not only finding their own voices, but also respectfully listening to the voices of those with whom they disagree.
"This coming year, controversial figures will visit our campus, and we will work to ensure such visits remain peaceful by role-modeling positive behavior and supporting Titans who may have opposing views."