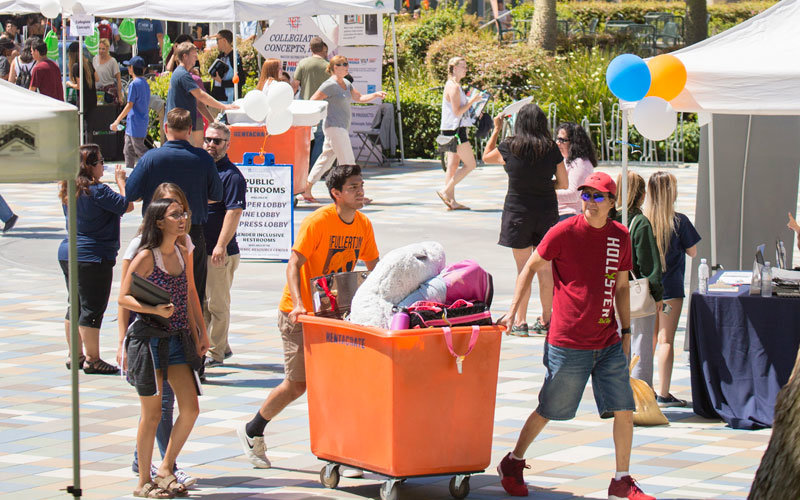 About 2,000 Cal State Fullerton students towing carts and crates of college life essentials made themselves at home today, Aug. 17, — Move-In Day — at the campus residence halls. Opening-day events included a town hall and casino night in the Piazza so students could get to know one another and become more familiar with the campus.   
President Mildred García and Berenecea Johnson Eanes, vice president for student affairs, visited with students, including Andrew Chung, and his family as he moved into Pine Hall.
"Do well and make your parents proud," García told the mechanical engineering major. "Before you know it, we'll see you at graduation," added Eanes.
Starting this fall, faculty mentors will assist residential advisers in their focus on student success. Programs and connections to help students succeed begin on Day 1, Eanes said. "We hope they feel the energy and that it continues to resonate with them that we have all these people here to make their first day on campus a success. Each touch point has something to do with getting our students to that finish line. We're making those connections so they know we're focused on getting them to where they want to be."
The 2017-18 academic year began this week with Monday's convocation and introduction of 43 new tenure-track faculty members. Fall classes begin Saturday, Aug. 19, but most of the anticipated 40,000 enrolled students return beginning Monday, Aug. 21 and Tuesday, Aug. 22.