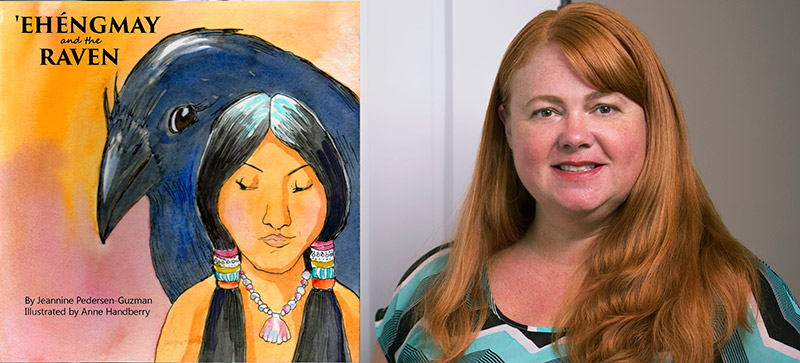 Jeannine Pedersen-Guzman, associate curator for archaeology at the John D. Cooper Archaeological and Paleontological Center, is the author of a new children's book,                 "'Ehéngmay and the Raven" that focuses on the Native American cultures of Orange County.
The book tells about the Tongva and Kizh (Gabrielino) and the Acjachemen (Juaneno) tribes and will be used mainly in third grade classrooms since that is when students are taught local history.  
The Cooper Center — a partnership between CSUF and OC Parks — and the Orange County Historical Commission sponsored a printing of 600 books, which will be donated and distributed in the fall to public elementary schools in Orange County. The Orange County Department of Education will facilitate the distribution of the books to the schools. Anne Handberry, the book's illustrator, is a volunteer at the Cooper Center.
What is your book all about?
My book tells the story of a young Native American girl, 'Ehéngmay (pronounced 'e-HENG-my and means "bird" in the Acjachemen language), who goes on a dream journey to discover the meaning of her name, with the story interwoven with local Native American culture. Ehéngmay is guided by Raven, a bird who helps her understand the importance of being caring, helpful and knowledgeable about her culture. Throughout her journey Ehéngmay encounters native animals, plants and environments of what is today Southern California.
Why did you become interested in this topic?
Through my work at the Cooper Center, it is my job to preserve the region's Native American artifacts and to share their history with the greater community. I began searching for sources of information to add to our website in an effort to help local teachers instruct their students about local Native Americans — and I couldn't find very much. So I decided to write the book to assist teachers in their instruction. I wanted to do a storybook rather than a history book so that students could imagine the life of local Native Americans.
Why is it important for children — and adults — to know about this subject?
Orange County has a long and rich history of Native American settlement and most people are unaware of this. It is important for children and others to understand their history and the people who came before them. It fosters respect and gives people a sense of place and community.
Any new information you discovered?
I worked with several members of the local Native American community throughout the process and I learned a great deal. They helped guide the book so that it was historically and culturally accurate. For example, in one part of the story I had the main character sitting by the fire and listening to her father and uncles play music. But a local Native American woman told me that a young girl wouldn't have been allowed to sit by the fire, so I changed it so that she was listening from a distance. It is a small detail, but very important.
What is one surprising fact about OC's Native Americans?
Native American cultures have made this region their home for over 12,000 years. The late prehistoric societies had rich cultural traditions and their communities were allied and networked with each other through intermarriage, trade and ceremony. These relationships surpassed linguistic boundaries, and it is likely that many Native Americans were able to understand, and speak the languages of their neighbors.