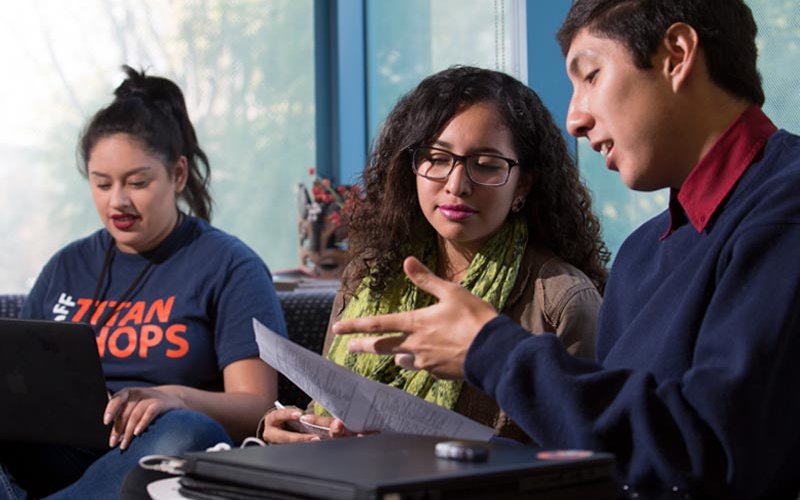 When President Trump rescinded the Deferred Action on Childhood Arrivals (DACA) program earlier this week, both President Mildred García and CSU Chancellor Timothy White quickly responded.
"To be clear, [DACA students] are our classmates and students, many of whom were brought here when they were so young, they have no memory of their native land, do not speak the language, and have no family to look to if forced to return," García wrote in an email that was sent campuswide.
"The call to support these students is not new, and I am proud that we at Cal State Fullerton have a long history of answering it. In 2014, three decades of support for undocumented students by our faculty and staff culminated with the creation of the Titan Dreamers Resource Center (TDRC), making us the first CSU and one of the first universities in the country to take a public stance in support of Dreamers by opening a center committed to their needs."
Henoc Preciado, the inaugural coordinator of the Titan Dreamers Resource Center, has worked to create a "safe space" for undocumented students since the center's opening. He has been counselor, mentor and friend to scores of undocumented students who seek advice, support and solace.
As many as 75 students visit the center on any given day; they come for study, fellowship and friendship. They also seek information, often about state and national immigration policies and legislation that may affect their ability to remain in the U.S.
"I'll never be able to put into words all of the challenges and obstacles these students face," Preciado said. "These are students who have often been told that they could not attain a college education. But they persevered; they now rightfully call themselves Titans, and they are achieving their dreams. Now more than ever, it's important to remind every Dreamer that they are worthy of a college education, and that Cal State Fullerton fully embraces them."
They have advocates in the faculty and staff of Cal State Fullerton.
"Through our collective work, we remain hopeful that when our nation's leaders come to understand Dreamers and witness the obstacles they overcome in pursuit of a college degree since being brought to this country as young as a few weeks old, they will join us and the many great leaders — Republican and Democrat — who embrace them," said García in her email.
CSU Chancellor Timothy White wrote in a separate message that was distributed throughout the 23-campus CSU system: "I was deeply disappointed by [the] decision to rescind the Deferred Action on Childhood Arrivals (DACA) program. This program enabled thousands of academically qualified Californians to pursue their dreams at California State University campuses, and was widely acknowledged as a strategic benefit to our state and, indeed, our nation. I am joining with colleagues throughout the United States to urge Congress to pursue legislation that will restore the heart of this forward-thinking program in a timely manner. …
"Our mission to provide excellent educational opportunities to all Californians shall not waver. We will continue to vigorously pursue the CSU's commitment to advance and extend knowledge, learning and culture; to provide opportunities for individuals to develop intellectually, personally and professionally; and to prepare educated and responsible alumni who are ready and able to contribute to California's culture and economy. To that end, I will continue to advocate for our current and future students and employees who are affected by this unfortunate development."
In the conclusion to her email, García wrote, "And finally, to the Titan Dreamers reading this today: On behalf of the diverse faculty and staff of your future alma mater, you forever have our support, you forever have our respect, and you will forever be a Titan. Now more than ever, we will Reach Higher for you and each of the more than 40,000 Titans who join you in calling Cal State Fullerton home."