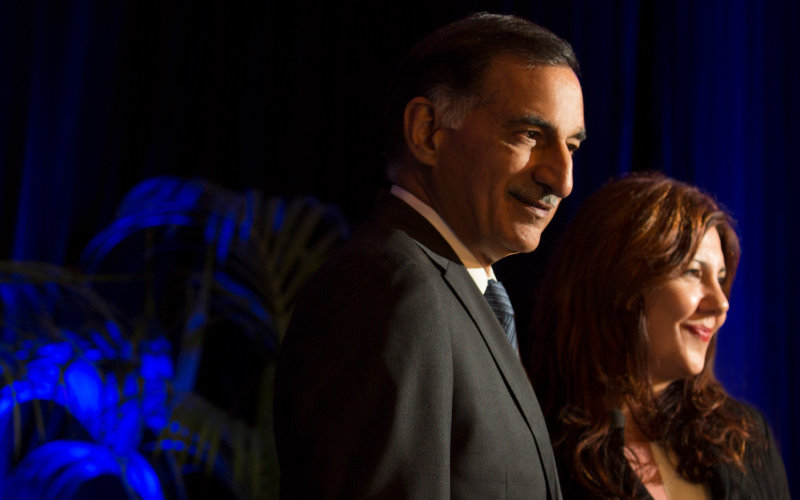 With the economic expansion entering its ninth year (making this the third longest in history), a regime shift in Washington, D.C., fiscal and monetary policy uncertainty, two powerful hurricanes, and elevated geopolitical risks, is growth still sustainable?  What should businesses expect in the coming year both in terms of economic outlook and on the policy front?
Cal State Fullerton economists Anil Puri  and Mira Farka will address these questions and discuss the economic outlook for the U.S. and Orange County, on Wednesday, Oct. 25, during the 23rd annual Economic Forecast Conference, "Sustainable Growth? Adapt, Connect, Transform in a Shifting Global Economy."
Farka, and Puri, interim provost and vice president for academic affairs and director of the Woods Center for Economic Analysis and Forecasting, will lead the two-hour presentation at Hotel Irvine. Farka is co-director of the Woods Center and previously worked on Wall Street as an economist with Deutsche Bank.
The duo's presentation offers insight into the forces that are likely to shape the economic outlook over the next year including regulatory reform, infrastructure spending, interest rates, housing and consumer markets, business investments and international developments.
"The biggest risks to the U.S. economy over the foreseeable future come primarily from the fiscal and monetary policies," says Farka. "Is tax reform possible? If so, how meaningful will it be? Will Congress deliver on infrastructure? Will trade war talks ramp up? How will the 'Great Unwinding' from the Fed unfold? Will it tip the economy into a recession? These are important questions for businesses large and small over the next few months," she adds.
The keynote speaker, Eric Haller, is executive vice president and global head at Experian DataLabs. Haller has held the executive vice president title since May 2014, and led the creation of labs that support research and development initiatives across the company's enterprises in the United States, Great Britain and Brazil. New products developed in the labs cover mobile, payments, consumer and commercial credit, fraud, targeted marketing and healthcare.
The annual program is co-sponsored by Cal State Fullerton's Mihaylo College of Business and Economics and the Orange County Business Council.
Registration begins at 11 a.m. and the conference follows at 11:30 a.m.
The cost to attend ranges from $160 per person to $1,500 for a corporate table of 10. Sponsorships are available from $3,500 to $10,000. Reservations can be made online.   
For more information, contact Sabra Riter, director of events for OC Business Council, 949-794-7241 or Enrique Gonzalez-Salgado at 657-278-2857.