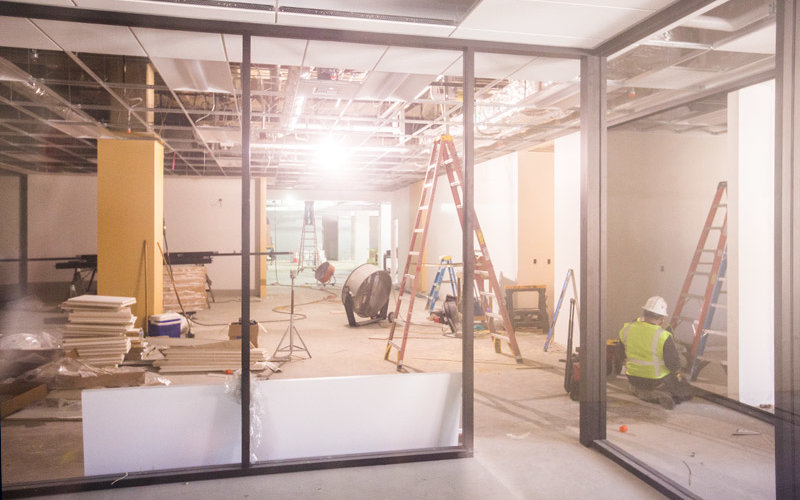 Three years after a steering committee finished developing a vision statement for the Pollak Library, and more than a year after construction began, the first floor of the south side of the campus facility is shaping up to once again serve the campus community.
It is but the beginning of a multi-phase effort to not only repair damage from the 2014 earthquake that closed much of the facility off from students and faculty, but also to leverage technological advances and transform the facility to meet the growing and changing needs of the campus. The changes are part of the Library of the Future, or LOFT, a CSU systemwide initiative.
Key elements of the plan include increased student reader space and collaborative areas, as well as added faculty space. The goal: best use of space with the most cost efficiency, while creating a social, cultural and technological hub for the campus.
The goal for the renovation on the first floor is a student-centered area that will include student resource centers, including the University Honors Program and Center for Scholars, as well as the relocation of many of the library offices on the perimeter of the south side, says Sarab Singh, director of construction.
Singh expects that the first floor will be completed in December in time for January occupancy.
Already completed last year was the move of the Faculty Development Center, Faculty Affairs and Records, the Academic Technology Center and Online Education and Training to the second floor of the library and housed together as Faculty Support Services.
The relocation of faculty services, as well as the Titan Computer Lab, means the library basement area can house book stacks that formerly were housed on the first and fourth floors. While such moves will open up space for increased student seating, the intent is to retain as much of the library's collection while reducing the amount of square footage to house it.
Renovation also means meeting current fire marshal requirements: the leveling of the concrete from the new entrance into the Quad, and the addition of 105 windows on the second through fifth floors.
"The window additions will not detract from the chevron pattern of the library's walls and will add an interesting element to the facility," Singh notes.
"After the first phase is completed, construction will begin with the opening of new windows from the second to sixth floors on all four sides of the building, upgrades to the Quad area, followed by renovations to the fourth and fifth floors," says Singh, adding that the second phase is expected to be complete by 2021, depending upon state funding.
The third phase of construction will renovate the second and third floors in future.
"Our aim for the renovation project is to adapt Pollak Library to 21st-century library practices and methods, emphasizing student learning and digital resources as laid out in the project program," says Singh. "For the life of the University, this library has served as a gathering place, a study place and an accessible research space for both students and faculty members. With this construction, we hope to see the Pollak Library continue to serve the needs of the campus community for many years to come."