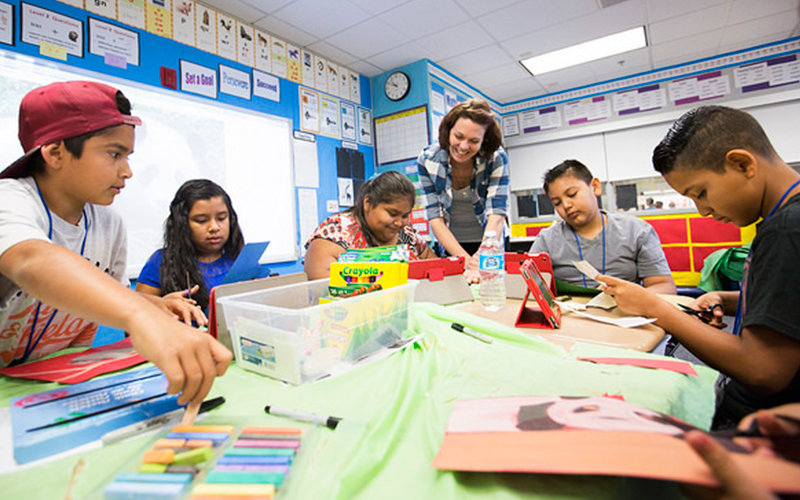 Cal State Fullerton's Center for Internships and Community Engagement has signed a partnership agreement to offer the Titan After School Education and Safety (ASES) program to youngsters in the Tustin Unified School District.
ASES offers assistance in developing math and reading skills, support in completing homework assignments, special club activities, sports and games to hundreds of first- through eighth-grade students under the guidance of Cal State Fullerton and other university students, many of whom are child and adolescent studies majors. It has been offered to students in the Buena Park School District for 11 years. Now, the program is being offered to eight schools in the Tustin district. To help facilitate the effort, a new Titan ASES office is being opened at Cal State Fullerton's Irvine Campus. A ribbon-cutting ceremony will be held at 10:30 a.m. Friday, Oct. 6.
"This partnership is another great example of Cal State Fullerton's community engagement," said Stephan R. Walk, interim associate vice president for South County operations and initiatives. "Cal State Fullerton has proudly served south Orange County since 1989, and our campus in the Irvine Spectrum is ideally situated to spark collaborations and partnerships."
The Titan ASES program is being offered at Beswick, Estock, Heideman, Thorman and Veeh elementary schools and Columbus Tustin, Murrie and Utt middle schools. The Cal State Fullerton Irvine Campus is located at 3 Banting. For more information, call Chris Perez, Titan ASES program director at 657-278-2203 or chrisperez@fullerton.edu.