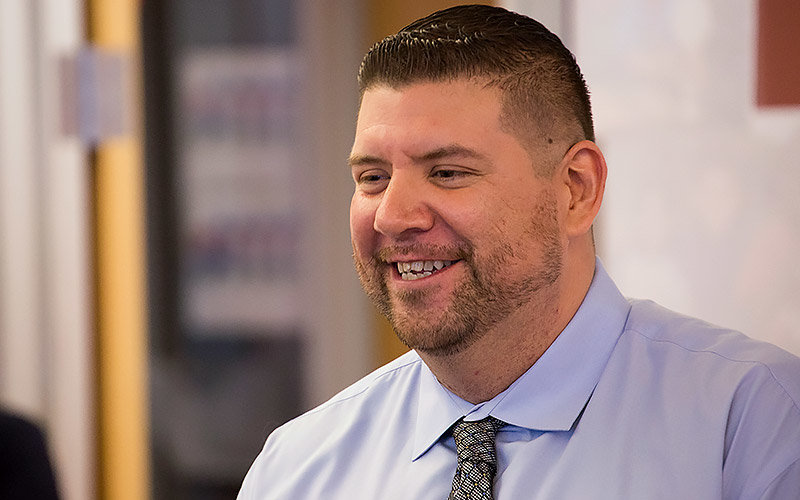 Christopher Perez, director of Cal State Fullerton's Titan After School Education and Safety (ASES) program, will be honored Thursday, Oct. 26, by the California Department of Education.
Perez is one of four to be honored with the state agency's California Expanded Learning Emerging Leadership Award, an honor recognizing emerging leaders dedicated to serving children and youth. The award will be presented by Tom Torlakson, state superintendent of public instruction, at the "Lights on Afterschool Leadership Awards" in Sacramento.
"Under Chris's leadership, the ASES program has thrived," said Dawn Macy, director of the University's Center for Internships and Community Engagement. "It not only provides excellent opportunities to CSUF students for service-learning, academic internship, volunteerism and employment, but has proven to generate outstanding academic gains for participating kids."
The ASES program is offered to students in Buena Park schools and this fall was expanded to eight schools in the Tustin Unified School District.
"I am very appreciative, especially because it is recognition from my colleagues and peers in after-school programs. I see this as a recognition of the great work that we have been doing for 11 years," said Perez, who has led the program since 2007. He was honored earlier in the year by the Orange County Department of Education for his leadership and collaborative spirit with colleagues and was nominated by the county agency for the statewide recognition.
Prior to joining Cal State Fullerton, Perez served as a coordinator-at-large with THINK Together in Los Angeles and a site coordinator with Camp Fire USA and LA's BEST after-school enrichment program.