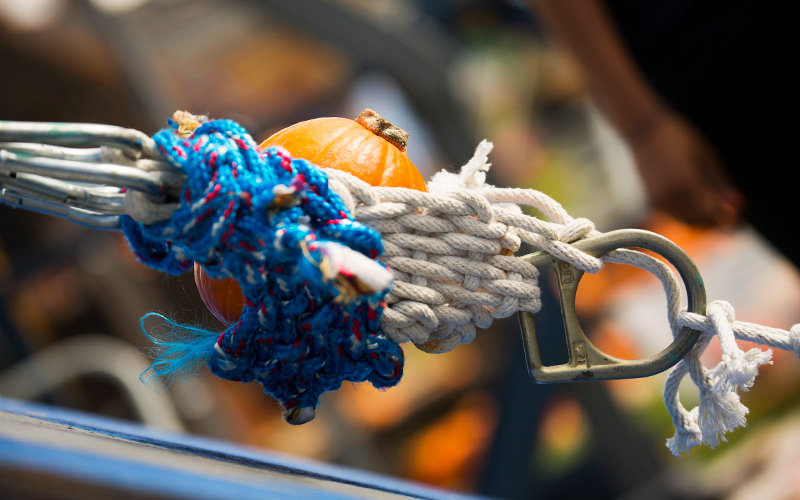 Cal State Fullerton student Eric Hoang and his teammates are engineering a newfangled, Middle Ages-style launcher for this fall's Pumpkin Launch.
"Our goal is to able to fling the most massive pumpkins to targets 100 to 300 feet away, and to be as accurate as possible, hitting the targets," said Hoang, since scoring is judged on accuracy and distance.
The students tried to think outside-of-the-box with their design, explained Hoang, a civil engineering major and team captain, whose 10-member co-ed team is entering the 10th annual competition for the first time.
"Although the overall concept is a known design called the floating arm trebuchet, we modified it by using water weights instead of traditional plated weights. Our design also allows more flexibility with how much weight to put in the sling."
Hoang's team, Upsilon Theta Tau, made up of mechanical, civil and electrical engineering majors, is one of five CSUF student groups entered to compete in the Saturday, Nov. 4, free community event, held on campus. The event is presented by CSUF's College of Engineering and Computer Science and Discovery Cube.
The 10 a.m.-2 p.m. event on the athletics fields is expected to draw about 16 collegiate and community pumpkin-launching teams and more than 4,000 spectators. The event also features hands-on STEM (science, technology, engineering, mathematics) activities for children, presented by CSUF engineering students and the science center.
The other Titan teams competing are the American Society of Civil Engineers, Institute of Electrical and Electronics Engineers, Society of Automotive Engineers and Society of Women Engineers. The all-female team tied for second place in 2016, following top finishes in previous years, including first place in 2013.
Hoang and his fellow students wanted to participate this year because it was a chance to showcase and demonstrate their knowledge of engineering principles. Students applied different engineering concepts learned in the classroom — from calculus to kinematics — to a real-world application.
"From designing and planning the blueprints, to staying within a budget and working as a team, this project gives us the chance to learn valuable skills for our future careers," Hoang said.
Hoang also hopes the teams inspire the younger generation in attendance because "everyday, our lives are impacted by innovations in STEM."
"There are so many unique and exciting aspects of engineering and science. Even though many kids may find some of the subjects, such as math, to be difficult, events like these allow them to see the fun side of STEM. I hope it inspires kids by showing them how exciting and fun STEM can be."
Registration and Parking:
The event is free, however, spectators are encouraged to register. Visit online to register. Saturday parking is free on campus, 800 N. State College Blvd., Fullerton, 92831. CSUF map and directions are available online. A variety of food truck vendors will be on hand for lunch purchase.
More:
See photos from the 2016 Pumpkin Launch here and watch the video of 2012 Pumpkin Launch.