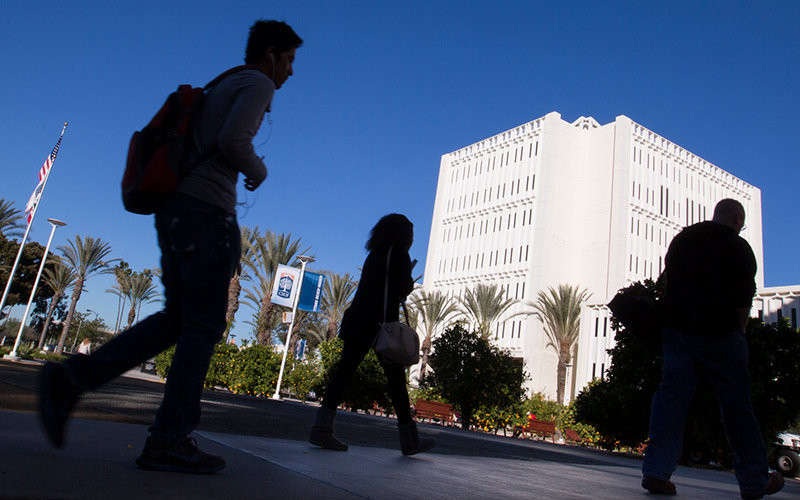 Student enrollment reached a record high this year, according to this fall's census, which shows that 40,439 individual students are enrolled at Cal State Fullerton compared with last year's figure of 40,235.
Much of the increase can be attributed to the all-time high number of applications for the fall semester. The University received 79,209 applications for admission from prospective students. Among first-time freshmen, the admit rate has slipped to 46 percent.
Additionally, enrollment is up 7.8 percent at the Cal State Fullerton Irvine Campus, demonstrating the University's commitment to reaching out to students who live/work in south Orange County. Total enrollment in Irvine is 4,038 and, of these students, 966 are new to Cal State Fullerton. Additionally, 404 CSUF students are only enrolled at the branch campus.
CSUF's rise in enrollment comes as U.S. News & World Report ranks the institution among the nation's top 25 "Most Innovative" and includes CSUF on its list of "National Universities," which offer a full range of undergraduate majors, plus master's and doctoral programs, and emphasize faculty research. Prior to this elevation, the campus had been included in the much narrower "regional universities" category.
In addition, Diverse Issues in Higher Education ranks CSUF fifth in the nation in terms of bachelor's degrees awarded to underrepresented students, and Hispanic Outlook in Higher Education ranks CSUF No. 1 in California and second in the nation among top colleges and universities awarding degrees to Hispanics, both based on the U.S. Department of Education data.
"Demand for the high-quality education offered by Cal State Fullerton continues to grow," said Anil Puri, interim provost and vice president for academic affairs. "Multiple efforts to support student success and enhance the value of a Cal State Fullerton education are reflected in these numbers."
A number of factors contribute to CSUF's desirability among prospective students, including top-sought programs in business, nursing and kinesiology. Moreover, CSUF offers a depth and breadth of educational programs with tuition fees well below the national average — while being recognized as a top institution in the West for students graduating with the least debt. Add to this a diverse, inclusive campus, and CSUF continues to move toward becoming the model public comprehensive university of the nation.