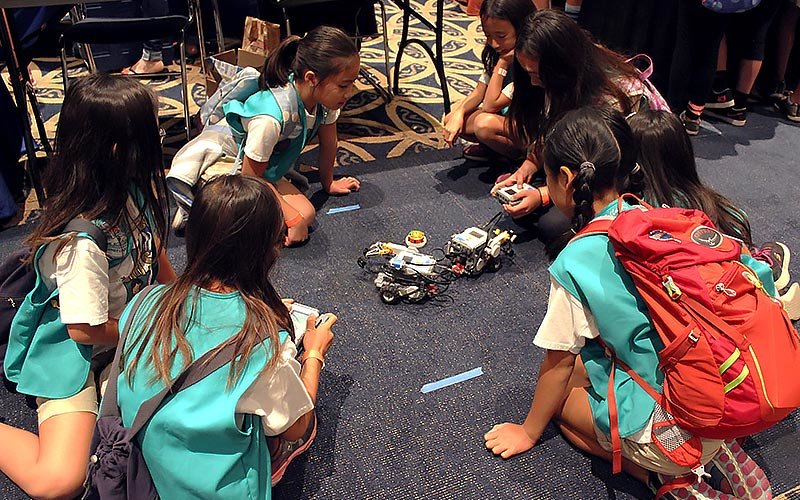 More than 500 Orange County Girl Scouts are coming to Cal State Fullerton on Sunday, Oct. 15, to learn all about science, technology, engineering and mathematics (STEM).
The College of Engineering and Computer Science and Association for Computing Machinery-Women in Computing student organization are partnering with the Girl Scouts of Orange County to present the second STEM Expo on campus.
Though not open to the public, the event is open to journalists, including photojournalists.
The 9 a.m.-5 p.m. event, expected to draw Girl Scouts in grades fourth through 12th, will feature lab tours and hands-on activities — on such topics as 3D printing, physics, autonomous vehicles, environmental engineering and nursing simulation — to promote careers in STEM.
Lab Tour Schedule
11:15 a.m.-noon; 1:30-2:15 p.m. and 2:30-3:15 p.m. – Lab tours will take place in the colleges of Engineering and Computer Science, Natural Sciences and Mathematics and Health and Human Development.
Exploring STEM
Girl Scouts have the opportunity to participate in activities toward earning their "My STEM Life" badge, developed for Girl Scout Cadettes (grades 6-8) to encourage girls to explore the exciting world of STEM in Orange County and see how it fits into their everyday life and future. Younger Girl Scouts can work on their "STEMsational ME!" badge, created for Girl Scout Juniors (grades 4-5) to help them understand how they use STEM every day to be themselves. There also will be opportunities for Girl Scout Juniors to work on the new Robotics badges launched this summer by Girl Scouts. All Girl Scouts in attendance will receive a STEM participation patch.
The STEM Expo will be held in Titan Student Union's Portola Pavilion and various college laboratories, 800 N. State College Blvd., Fullerton, 92831.
Media Contacts:
Doina Bein and Beth Harnick-Shapiro, CSUF Computer Science
Debra Cano Ramos, CSUF
Elizabeth Fairchild, Girl Scouts of Orange County