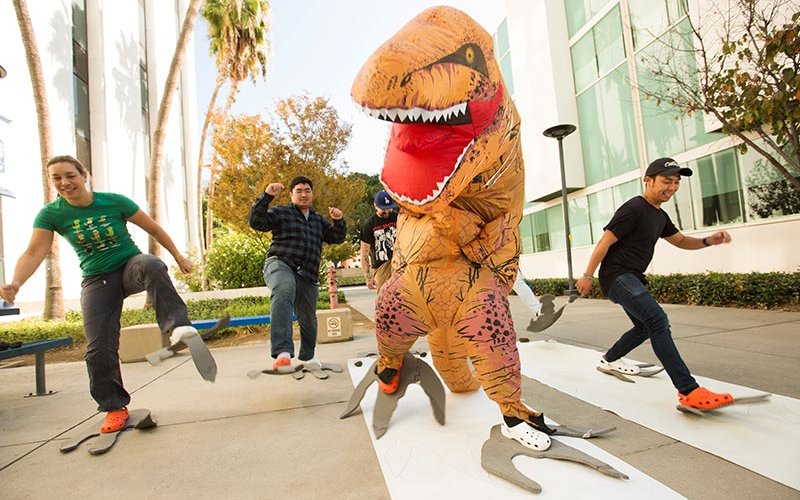 "Jurassic Park" has come to Cal State Fullerton, but without the peril.
"Stride Like a Velociraptor," named for one of the world's most well known dinosaurs, thanks to the "Jurassic Park" movies, and lived on Earth around 75 million years ago, is a faculty-student research project led by Natalie Bursztyn, assistant professor of geological sciences.
Bursztyn and her student Rhyan Ibarra came up with the prehistoric project to give elementary, high school and college students the experience of "walking a mile in a dinosaur's shoes."
The focus of the project is for students — from elementary to college age — to gain an appreciation for how big and how small some dinosaurs were, learn how stride length can be used to determine whether the dinosaurs were walking or running, and to clarify some common misconceptions about dinosaurs, Bursztyn explained.
"One of the biggest sources of confusion in the sciences is the concept of scale," she said. "In geology, scale comes as a challenge in both the temporal or geologic time sense, and the magnitude, such as the size of structures, features and/or prehistoric animals sense," she said.
"To confound matters, geologists have the additional burden of communicating both of these scale problems at the same time — that is, the unimaginable size of things that existed at times unimaginably long ago — like dinosaurs."
Ibarra, a geology major, constructed dinosaur shoes for seven different dinosaurs — the velociraptor, brachylophosaurus, camptosaurus, dilophosaurus, tyrannosaurus, megalosaurus, and struthiomimus — in which scientific data about the dinosaur's footprints, stride and size is available.
"For my project, I want answers to questions such as whether students can discern walking and running speeds by walking the dinosaur strides? Can they figure out how big something is based on how big their footprint is?" said Ibarra.
The shoes were made of a foam cutout of the dinosaurs' footprints glued onto Crocs sandals. The researchers took the dino shoes into schools, where students at Riverdale Elementary School in Garden Grove, Westminster High School, as well as at CSUF, participated in the project and wore the shoes for various activities to replicate the stride and length of each dinosaur.
Amy Rudenberg, a CSUF secondary education teacher credential candidate and student teacher at Westminster High School, assisted with the project, where her students in the ninth-grade physical science class participated.
"This is the crux of the new Next Generation Science Standards being newly implemented at schools," said Rudenberg, who wants to teach high school science. "This activity gave the students a way to be engaged in learning through actively 'doing' science and not just listening to a lecture."
Ibarra is currently analyzing the data to see whether a student's perception of scale changed through this kinesthetic activity, and if it had a positive impact on their learning. He plans to have the research completed by next spring for his senior thesis project.
Meanwhile, to get students excited about studying science, the College of Natural Sciences and Mathematics is offering the course, "Dinosaur World."