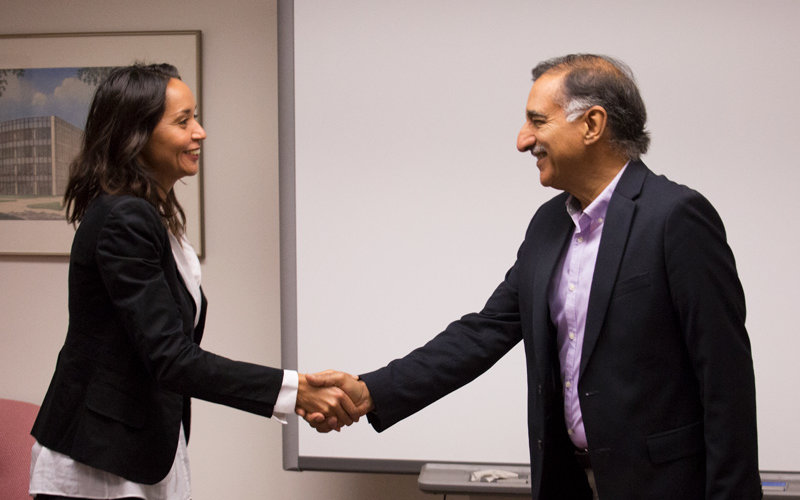 What does it mean to be a leader? What qualities does a leader in education need or have?
Last spring, four faculty members were chosen to participate as the inaugural group of the Fullerton Faculty Leadership Development Program. The group worked together for a period of 15 weeks, meeting weekly and working through readings and assignments.
"We developed a small learning community and asked them to work together and with others to define and analyze the role of leadership in higher education, to determine the traits, competencies, capabilities and skills needed to be a leader," explained Kristin Stang, interim assistant vice president for faculty support services.
"This is not a 'how to become a department chair or a vice president' but a growth program. We want them to gain awareness of their strengths, and what they can bring to the table. They can then make the choice of what they feel comfortable doing, even if the results are only seen in how they lead a class or a working group from their department."
Estela Zarate, professor of educational leadership, was among the inaugural group in the program. The program gave her "a clearer understanding of the limitations of administrative roles.
"As faculty, we often have a very limited view of the responsibilities of various administrators and management roles and this can cause frustration," she explained. "As a result of this program, I have been better able to understand the organization and can envision how I can contribute towards its growth."
"I have met so many talented faculty members that now work in university leadership and I was happy to learn that the principles that drove them to become teachers and scholars sustain them in their work as managers and administrators," noted Volker Janssen, professor of history, and another inaugural member in the program. "We often think that there's a deep divide between faculty and those that work in administration, management and university leadership. This program has helped me understand that I can take on leadership responsibilities and remain true to the things I value in academic research and learning."
Deba Cote, associate professor of special education who attended last spring, and Kenneth John Faller, a current member, both said they valued the honesty, openness and mentorship of the program. "These are as important to me as an educator and in my personal life, as they are for leadership," Faller noted.
"The weekly leadership discussions allowed for learning, reflection and growth – ultimately resulting in the trust/respect that developed within the cohort/pilot," explained Cote. "The content of our reading, follow-up online posts, surveys, guest presenters and one-on-one meetings with those in leadership positions were invaluable."
"In sharing ideas and experiences, asking questions and meeting with campus leaders, the faculty members explore how policy and processes work on campus, leadership opportunities that are available across divisions, and consider how the discussions and readings can help guide their leadership path," Stang noted.