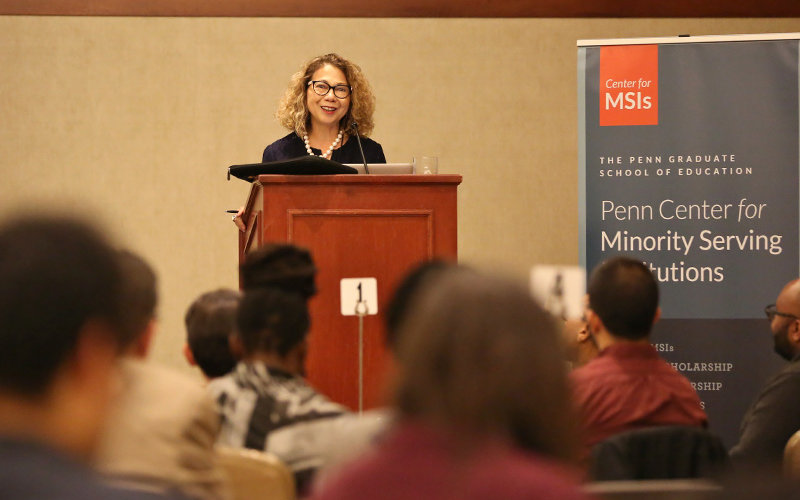 Last week, Cal State Fullerton President Mildred García delivered the keynote address, "How Diverse Champions and a Passion for Equity Led Me to the Right Institutions at the Right Time for the Right Reasons: A Journey of Leadership at Three Presidencies and a National Organization" at the Minority Serving Institutions' (MSI) Aspiring Leaders program at the University of Pennsylvania Graduate School of Education.
García noted that she would soon be leaving CSUF to assume the presidency of the American Association of State Colleges and Universities, and offered some reflections on the three presidencies she has held. She also encouraged those in the audience to take on leadership roles at their own institutions.
Below are some of the highlights of her speech:
"I can't help but think of the many obstacles I faced along the way. Many of you have and will continue to face similar obstacles, yet these obstacles can never hold you back. I'd like to begin by underscoring the importance of you reaching the leadership roles you aspire to reach through the context of a social media post that recently went viral. It read, and I quote, 'I took my father to see Star Wars Rogue One today. I wanted my Mexican father, with his thick Mexican accent, to experience what it was like to see a hero in a blockbuster film speak the way he does.'
"Indeed, actor Diego Luna's choice to keep his Mexican accent for the latest Star Wars installment was part of a bold and calculated effort to illustrate what we in higher education have always known: diversity matters, representation matters, and when the people leading our institutions at home, abroad, and in galaxies far, far away mirror the diversity of our students, there is a new hope for all of us.
"For me and the women and people of color of my generation, this representation was almost non-existent; not just on the silver screen, but at the heads of the classroom and in administrative buildings around the nation. We were, however, no stranger to accents in our homes and neighborhoods.
"As a child, I was fascinated by my father's accent when he spoke English. It represented both the rich culture from which he came and the possibility of a future he envisioned for his children. And he was not alone. I'll never forget our family trips to the Lower East Side of Manhattan where my father, with his thick Puerto Rican accent, would negotiate with a Jewish Hassidic, with his thick Yiddish accent, over the price of Easter Sunday outfits for me and my siblings.
"To me, those two contrasting accents was America personified. Unfortunately, as my journey in education progressed, the accents disappeared, and the diversity I so fondly remembered in the neighborhood was no longer prevalent, especially in positions of leadership. In the absence of such role models, I learned to seek out like-minded individuals who shared my dream to break higher education's glass ceiling — not just fellow Latinos and African Americans, but all people of color and women working to be the change we wanted to see.
"Despite the fact that all of us now have leadership roles, the need for us to continue to support each other — and those who aspire to follow in our footsteps — has not diminished."
García discussed growing up in an environment where people were poor economically but rich in cultures, customs and languages.
"This gave us an invaluable introduction to the importance of being a global citizen," she said. She also spoke of the challenges she faced as she progressed in school and in her career, and encouraged those in attendance to seek leadership positions as well.
"Before you begin down the path of a presidency enter into introspection. Ask yourself why you want to become a president? What are your values, your goals? As we all know these jobs are extremely demanding but when you know your passion, mission and purpose, all of it drives you and it is all worth it," she said. "I love what I do, and my soul and heart soar when I see the ability and success to lead a team that transforms an institution to become the best it can be for the benefit of all students, particularly those who come from underrepresented communities or are the first in their family to graduate from college. Every May, when more than half of our 11,000 graduates are indeed the first in their family to cross a commencement stage, you can feel the transformative power of that moment in the supportive cheers and tears from the parents and families.  
"Today, our country is going through a difficult time, and those who are suspicious of diversity and fear the changing face of our nation have been emboldened to speak and lash out against it. I am amazed at how many higher education leaders haven't publicly condemned this. When I speak with these leaders, I hear the same reasoning for their lack of action: 'I disagree with what's happening, but I can't risk upsetting our donors, alums and/or constituents.' I politely remind them to review their institution's mission statement where they will most certainly find language stating that their University aims to welcome and support all. With this in mind, when our DACA students are threatened, or the Muslim members of our campus community are subjected to religious-based travel bans, or the Black Lives Matter movement is called into question, or our LGBTQ communities are losing their well-earned rights, we are obligated to speak out not just on moral grounds, but also by the very tenets we agreed to uphold when we accepted our leadership role.
"That path is never easy, and I discovered early on in my journey that women and people of color must check all of the boxes, have all the credentials, and be up to date and published on all the latest research and grants just to get a seat at the table. It's not fair that there are those looking for reasons to exclude us, but that is our reality. And yet we stand on the shoulders of individuals who opened the doors for us and we must continue to open doors to others.  
"The disparity of people of color in leadership positions in higher education is not due to lack of intelligence or ability, but rather lack of opportunity. To put this into context, the American Council on Education (ACE) began surveying college presidents in 1986, and at that time, approximately 90 percent of college and university leaders were Caucasian men. However, as I progressed in my journey from president of Berkeley College to president of CSU Dominguez Hills to president of Cal State Fullerton, and now, as the upcoming president of AASCU, those numbers have begun to change — not nearly at the pace of the nation's demographic shift, but small improvements nonetheless. As this happened, mentors did begin to emerge for women and people of color aspiring to lead institutions. I learned that strong colleagues and supporters didn't necessarily have to look and sound like me; they just needed to share my passion for equitable access to higher education. I had mentors who were white males and women who were not Black or Latina, and their support was equally transformative.
"This not only applies to your own support network, but also the leadership teams you join or build as you progress towards a presidency. I also proactively search for and work with colleagues outside of higher education and find their perspectives and advice to be as insightful as they are refreshing.
"Equally important to a strong network of colleagues and mentors is the need to give back by supporting mentees — from former students to colleagues you're matched up with through national organizations such as AASCU's Millennium MLI program. In the past three years alone, three of my mentees — all women and/or people of color — began their own presidencies and will now begin mentoring a new generation.
"I took a risk in accepting my first presidency at Berkeley College, one that some advised me not to take. Berkeley is a for-profit institution, and there was a fear that I would be pigeonholed in a way that would prevent me from one day returning to 'traditional' higher education. Take note that there ARE some quality for-profit colleges and Berkeley was one of them. Moreover, Berkeley was populated with a student body I was passionate about serving — low-income, underserved, and first-generation students from diverse backgrounds — and that cemented my decision to take the job.
"While there, I continued to write, publish and drive national conversations about equitable access, inclusivity and diversity in higher education. So much so, that when the California State University (CSU) system began searching for new presidents to lead from this perspective, my name kept popping up.
"After 10 years of leading two different CSU institutions (CSU Dominguez Hills from 2007 – 2012 and Cal State Fullerton from 2012 – present), there have been countless other lessons learned, and a day doesn't go by that I don't encounter at least one 'teachable moment' for myself or my colleagues. When I was approached for the presidency of AASCU last month, my confidants and mentors proved to be as important as ever, and without them, I'm not sure I would've had the courage to take this leap.
"The other reason I knew AASCU was the right decision for me at this time is because of my experience at Cal State Fullerton. Fifty-five percent of our more than 40,000 students are the first in their family to attend college, more than 60 percent are students of color, and nearly half are Pell-eligible. These diverse students have taught me so much. I have seen upfront the transformational power of state colleges and universities through the work we accomplished for the students of Cal State Fullerton.
"I am so grateful to the diverse champions whose mentorship led me and so many others to the right institutions at the right time for the right reasons. Together, we stand as a testament to the transformative power of higher education, and I am proud that a new generation of diverse students and higher education professionals now look to us to see what is possible. Mom and Dad, with their thick Puerto Rican accents, would be so very proud."