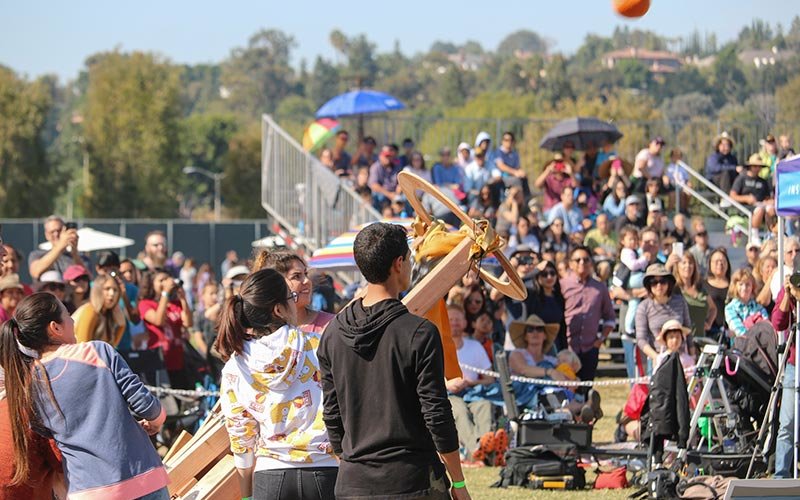 Even though the arm of one Cal State Fullerton team's trebuchet snapped in half during the 10th annual Pumpkin Launch, competitors came to their rescue with tools and materials to help them rebuild.
This allowed the team to continue launching pumpkins, and ultimately, win second place out of 16 college and community teams.  
"It was rewarding to see the realization of our creation come to life, and that all of our hard work, dedication and time committed to the project didn't go to waste," said Eric Hoang, team captain of Upsilon Theta Tau, made up of a dozen engineering, computer science and kinesiology majors who entered the competition for the first time.
CSUF's Society of Women Engineers team also persevered with its newly built crossbow-designed launcher and tied for third place. It was the sixth time the all-female team has placed in the Pumpkin Launch, including winning first place in 2013.
"There's a lot of pressure, especially when SWE has placed almost every year since joining the competition," said team captain Alaena Logan, an electrical engineering major. "The win is quite a name booster for us just because we hope to get SWE's name out so more women in engineering join our club."
"Senioritis," a team of college students that has participated for several years beginning in middle school, won first place. CSUF's College of Engineering and Computer Science and Discovery Cube presented the Nov. 4 event on campus.