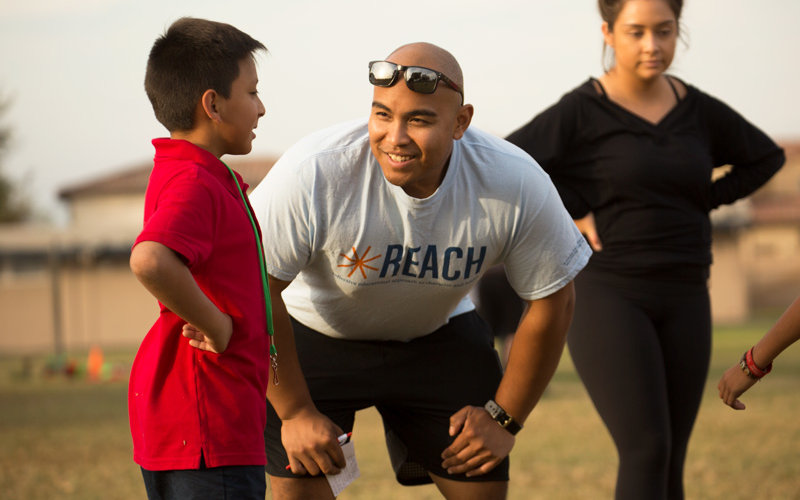 When the sun is shining and your friends are standing outside with a soccer ball in hand, reading and writing can sometimes take a back seat to sports.
But not always.
At the Center for Healthy Neighborhoods in Fullerton, it can go hand in hand through REACH — Reflective Educational Approach to Character and Health.
"We get elementary students into the program through their love of sports, then kick in literature," explains Risto Marttinen, assistant professor of kinesiology, who directs the sport-based program that focuses on not just the physical but also character and health education.
The program specifically works on literacy development through books on character that young people can relate to' such as Newbery-winning author Kwame Alexander's novel "Booked," about a 12-year-old soccer player, says Marttinen. "We're introducing them to reflective writing where the students write about their goals for school, what they did this week, incidents that happened and how those things affected or changed them."
The program provides a valued service to the community, as well as creates great mentorship opportunities for the 11 college students who lead the programs.
"The program empowers young students to reflect on what is going on around them, as well as the importance of physical activity and eating well," says the educator, who ran a similar program in Harlem before he joined Cal State Fullerton. "The volunteer students — majoring in health science, child and adolescent studies and kinesiology, many with plans on entering the University's teacher credential program — are learning the value of many of the things they were taught and how to put those methods and skills into action."
"REACH has helped me better understand the importance of being an effective teacher," agrees Richelleann Acain, a senior majoring in kinesiology with a concentration in teacher education. "I became more centered around the students and really listened to what they had to say. We are open to trying new things. By observing what my group liked and didn't like, I decided to introduce them to dance. This was met with positivity and energy, which was great because the kids loved doing something so different. It was at this moment that I realized I wanted to pursue an education that would enable me to become a teacher."
"The REACH after-school program has provided me a space to develop my research, interpersonal communication and observational skills," says kinesiology graduate student Anthony Villanueva '16 (B.S. kinesiology, B.A. ethnic studies). "I hope to take these experiences with me as I graduate this coming summer and apply it wherever I go, whether I pursue a doctorate degree, teaching credential or teaching/coaching position at a school."
Brianna Meza, a kinesiology graduate student, agrees. "Little did I know, my involvement would become a huge part of my successes as a grad student. REACH has provided me a platform to conduct my own research … My involvement has been recognized by my fellow scholars and helped me land a position as a teaching associate," she says. "It continues to provide me with opportunities to grow as an individual [and] helps me move toward my career goal of becoming a college professor."
Now in its second year, Marttinen is expanding the program to reach students beyond Richman Elementary School (adjacent to the Center for Healthy Neighborhoods), by adding Woodcrest Elementary School south of the center.