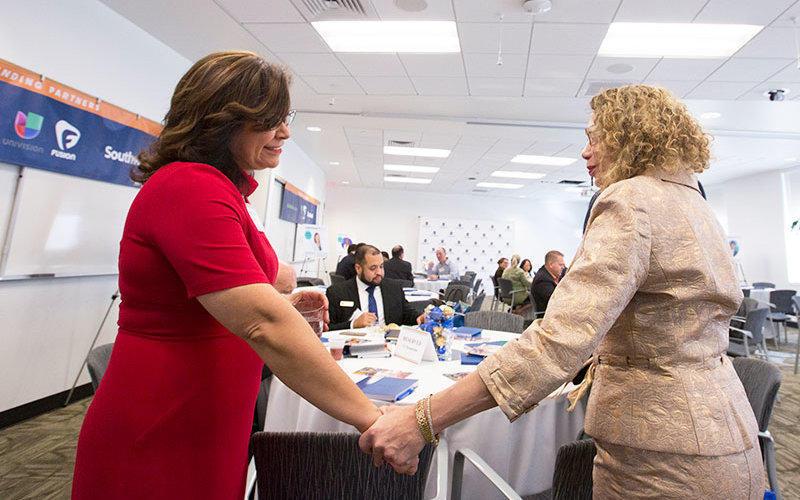 Cal State Fullerton College of Communications alumni, faculty and supporters rallied Friday, Dec. 15, to celebrate the successes of graduates and students in the college's Latino Communications Initiative and to announce the program's launch as an institute.
Several alumni, founding partners and University President Mildred García spoke about the program's opportunities and its students' achievements.
"The Latino Communications Institute and the faculty, staff, students and supporters who make it a reality, have reached higher to provide equitable access to high-impact practices, engage learning that transcends the walls of the traditional classroom, and deepens our ties to the diverse communities we are proud to serve," García said.
Institute Director Inez González, began the program as an initiative in 2013 with founding partners Univision, Casanova/McCann and Southwest Airlines. Through the years, the program has built on its promise to create a workforce pipeline between the University's students and Spanish-bilingual media organizations. The program offers opportunities for students, including a Spanish for Hispanic Media academic certificate, and immersive ways for students to engage in research activities in the Latino market.
Luis Patiño, president and general manager of Univision in Los Angeles, said when he started working for Univision 20 years ago, the company recruited from abroad to find talent for in front of or behind the camera, even top executives spots.
"We did not have people training young Latinos to be relevant in language, in media, and to be able to actually be on air at companies like Univision and like Telemundo," he said. "Now probably a quarter of our staff that's on-air talent is completely bilingual, completely bicultural. They could work at ABC, at NBC, at CBS tomorrow, but they choose to work at Univision because that is the language they grew up knowing, that is where they feel most comfortable and that is where they can make the biggest impact.
"Now, I can recruit my next anchor right out of institutions like Cal State Fullerton," he added. "I think that is very special and that is what you've done here."
Univision opened an on-campus news bureau in December 2016, giving students access to broadcast professionals and mentors, along with the company's news feed for CSUF's student-produced news programs "OC News" and "Al Día." The students also gained opportunities for internships and creating public service announcements and other work for submission to the Spanish-language network.
In January, LCI will launch a campus-wide contest inviting students to pitch social justice stories. The top stories will be produced by Univision and will run in Univision platforms, González said.
The transition to an institute represents the college's long-term commitment to prepare CSUF's Spanish bilingual students to be more competitive in the workforce, González said.
"LCI helped launch my career as a voice for our community," said Esmeralda Cisneros '16 (B.A. communications – journalism), a reporter for KECY-TV in Yuma, Arizona. "I owe a tremendous amount of my career to LCI, especially because it introduced me to a lot of useful resources and has given me the opportunity to meet a variety of professionals in my field."
"I've gone the distance I didn't know existed, thanks to LCI," said Eric Reséndiz '16 (B.A. communications – journalism), a reporter for Fox15 in Abilene, Texas. "God willing, I still have more miles to travel. LCI taught me networking can open doors, but your skills and knowledge will keep you there."
The formal designation enhances programs for students by increasing the institute's visibility, its potential for fundraising and grant writing, and its ability to expand alliances and build new partnerships, said Ed Fink, interim dean of the College of Communications.