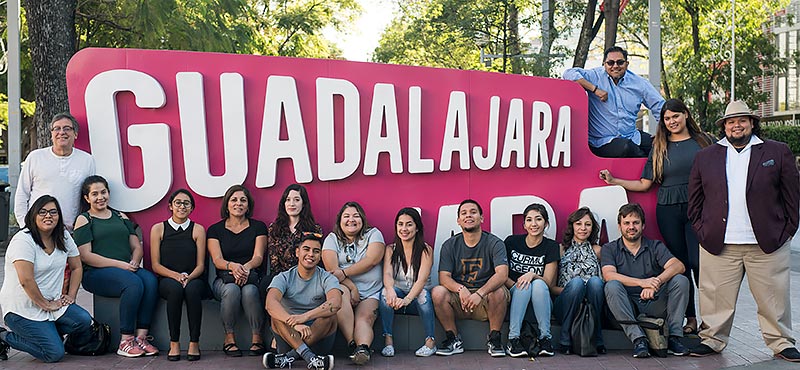 Through two Cal State Fullerton study abroad programs in Mexico this fall, students had the opportunity to present their research projects, learn about transnational migration and experience the Mexican culture.
A dozen CSUF Latino students — the first in their families to attend college  — participated in the Guadalajara Transnational Migration Program during Thanksgiving break, led by Julián Jefferies, associate professor of literacy and reading education. The program, which focuses on migration issues, is a collaboration between CSUF and the Centre for Humanities and Social Sciences at the Universidad de Guadalajara.
Studying in Guadalajara gave sociology major Iris Rangel insight as to why her parents immigrated to the United States from Michoacán, Mexico. Rangel and her classmates from various majors met with migrants at the nonprofit organization called FM4 Paso Libre, which hosts people crossing through Mexico chasing the "American Dream."
Through this service-learning project, students spoke with the migrants and gained an understanding about the sacrifices they make to come to the U.S., as well as the roles that Mexico and Central America play in transnational migration.          
"Students gain important knowledge about the context of immigration from a Mexican perspective, learn about the cultures, practice their Spanish, prepare for their careers, and gain intercultural competence," said Jefferies. As a Fulbright scholar, Jefferies begins his research project in January in Guadalajara on the experiences of  adolescent migrants who have returned to Mexico from the U.S.
One of the key benefits of the study abroad program, Jefferies added, is that students connect to the culture and immigration journeys of their Mexican-born parents.
"Interacting with the migrant residents at FM4 Paso Libre opened my eyes to how risky it is to migrate to another country and leave all your family and friends behind," said Rangel, a junior and aspiring youth counselor.         
"I had an emotional interaction with one migrant because hearing about his reasons for migrating reminded me of why my parents  left their home country — for economic reasons and educational opportunities," she added.
"Studying in Mexico made me feel proud of my family's decision to come to the U.S. and also demonstrated how privileged I am to be here."  
Students also attended seminars on immigration policy in the U.S. at the Guadalajara university, participated in workshops and one-on-one career counseling led by CSUF career counselor Miguel Martinez, and visited historical sites. They also brought back about 40 children's books in Spanish and donated them to Adelaide Price Elementary School in Anaheim. 
Presenting Research in Ensenada
Binod Tiwari, professor of civil and environmental engineering, and Dean Kazoleas, professor of communications, led a group of students to study in Ensenada, Mexico, as part of the  International Symposium on Applied Research program. The study abroad is made possible, in part, by a 100,000 Strong in the Americas Innovation Fund grant.
Sixteen students majoring in engineering, commmunications, biochemistry, mathematics and health science presented their research projects to faculty and students at the Centro de Enseñanza Técnica y Superior Universidad Ensenada. Research projects focused on such topics as the stability of clay slopes, how classroom teaching and students' learning strategies influence general chemistry achievement and more. Students also attended lectures on such topics as natural disasters, global economic trends and the use of big data.
"This study abroad program provides an outstanding opportunity for the students to go abroad, learn about industry, different cultures and present their research," said Tiwari, the University's 2017 Outstanding Professor.
Health science major Andrew Vu, a senior, presented research on trends in hormone therapy as it relates to ovarian cancer incidence rates. He conducts this work under the mentorship of Alice Lee, assistant professor of health science.
"Participating in this study abroad program allowed me to become immersed in the Mexican culture and better understand cultural differences," Vu said.