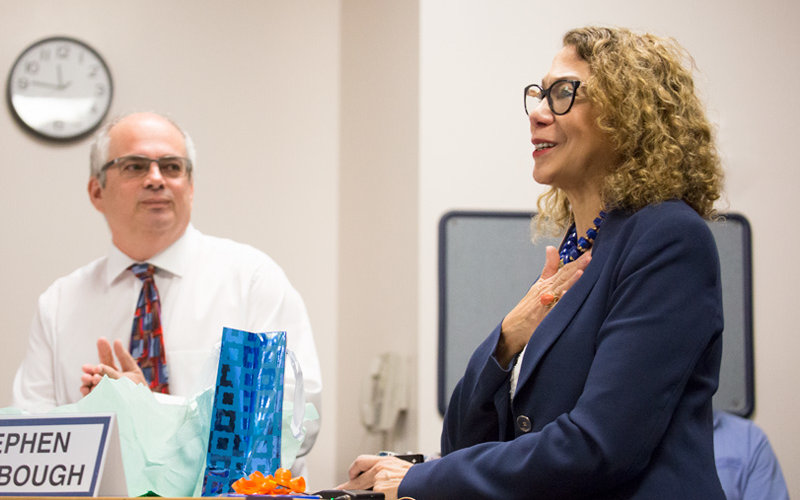 Leading off their final meeting of 2017, the Academic Senate honored — and teased — President Mildred García with a resolution in recognition of her years of service leading California State University, Fullerton, her focus on student success and her love of salsa dancing.
In November, President García announced that she will be leaving the campus to become president of the American Association of State Colleges and Universities.
Senate Chair Stephen Stambough read the resolution that noted her achievements and her contributions Dec. 7 before assembled senators and audience members, who followed the action with a standing ovation.
The resolution pointed to García's reputation as a strong advocate for public higher education; her commitment to student success and shared governance; and support for faculty, staff and students, including those covered by DACA.
It noted that under her leadership, the University:
Completed its first universitywide strategic plan;
Improved the six-year graduation rates for first-time freshmen 30 percent (from 51 percent to 67 percent);
Increased the four-year graduation rates for first-time freshmen 61 percent (14 percent to 22.6 percent);
Cut the achievement gap for first-time freshmen in half and saw the elimination of the achievement gap for transfer students;
Saw gift commitments in support of CSUF have nearly tripled, from $8.5 million (2012-13) to more than $22 million (2015-16); and
Celebrated athletics teams and athletes as they recorded more than 40 post-season appearances and 14 conference or tournament championships.
And in a light-hearted moment: "Whereas, President García loves to salsa dance and does not dance enough and danced at all 'Concert Under the Stars' events …
"Therefore be it resolved," said Stambough, "the Academic Senate thanks President García for her commitment to California State University, Fullerton, her support of the Academic Senate" and "wish her success, happiness and fulfillment in this next stage of her career … and extends a standing invitation to attend a senate meeting whenever she is in town."