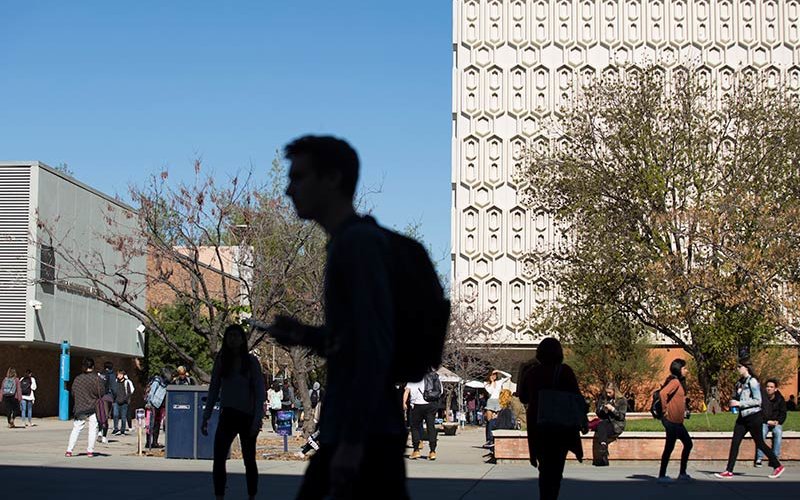 Cal State Fullerton received more than 75,500 undergraduate applications for fall 2018, setting a record for the university.
Of the 75,560 undergraduate applications for fall, 51,037 are from entering freshmen — another all-time high, and a 12 percent increase from the previous year. Applications from community college students and other upper-division transfer students held strong at 24,523.
Overall, the total number of undergraduate applicants increased 8 percent over last fall, according to Darren Bush, interim associate vice president for student affairs — student transitions, who oversees admissions. CSUF's reputation as a top-ranked, inclusive university that offers in-demand degree programs and supportive student success programs has a wide appeal to students, and not just in Orange County, Bush said.
"We're seeing a steady increase in applications from prospective students throughout Southern California and across the state, so we know that Cal State Fullerton is in high demand," he said.
After enrolling, new Titans thrive with student-centered programs that keep their success and graduation in focus. Students also benefit from the university's commitment to experiential learning and opportunities for high-impact experiences that boost their educational experience, he added.
CSUF's innovative and nationally recognized student success teams holistically support students through academic advising, graduation and retention strategies, and career planning.
"We're proud that a growing number of applicants want to be part of that Titan momentum," Bush said.
U.S. News & World Report ranks CSUF among the country's top "national universities" and also places it in the top 25 "most innovative"institutions. Diverse Issues in Higher Education named the university fifth in the nation in terms of bachelor's degrees awarded to underrepresented students, based on data from the U.S. Department of Education.
Diverse Issues in Higher Education also named CSUF the No. 1 university across the nation in awarding undergraduate degrees in business administration, management and operations to Asian-American and Hispanic students, and third in the nation for awarding bachelor's degrees in education to Asian-Americans. Diverse Issues also ranked CSUF No. 1 in the country in awarding bachelor's degrees in public administration and social service professions to Hispanics, No. 2 in undergraduate degrees in communications, journalism and related programs to Hispanics, and No. 3 in education, and parks, recreation, leisure and fitness studies to Hispanics.