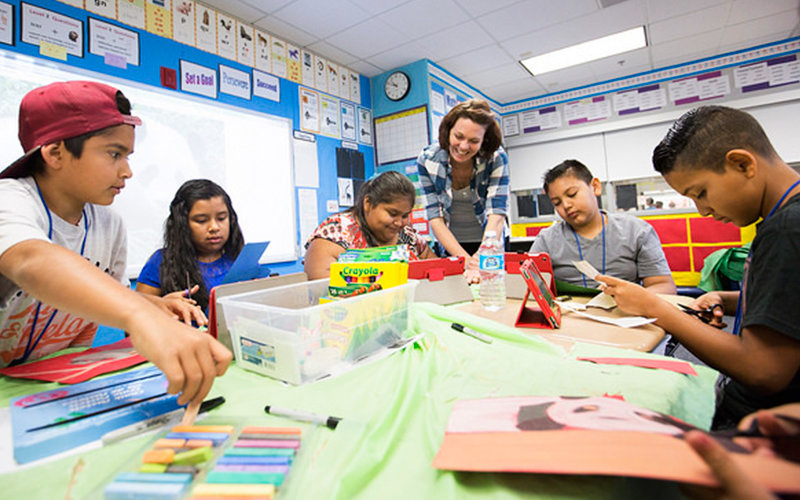 Cal State Fullerton faculty and staff have been busy garnering grants and contracts for everything from a financial planning initiative to research on health care disparities in Latinos. More than $2.1 million was received during the campus's second quarter (Oct. 1 to Dec. 30).
Michael Daniel, director of the CSUF Small Business Development Center: $517,000 award from the California Governor's Office of Business and Economics for the "Go-Biz Year 4" project and a $100,000 U.S. Small Business Administration award for the "Portability Assistance Grant." Related story: Supporting Entrepreneurs
Anand Panangadan, assistant professor of computer science: $296,253 Silicon Valley Community Foundation award for "Developing a Foundational Curriculum for the Internet-of-Things: Workforce Development and Education for Orange County" project.
Marcelo Tolmasky, professor of biological science: $239,937 contract from the National Institutes of Health for the "LA Basin CSU MHIRT Program." Related story: Future Neuroscientist Studies Antibiotic Resistance at Oxford
Patricia Literte, associate professor of sociology and director of the McNair Scholars Program: $232,265 U.S. Department of Education for the continuation of the campus McNair Scholars Program, which offers faculty mentors, research internships, workshops and support to low-income, first-generation and underrepresented students with dreams of advanced degrees.
Beverly Quaye, assistant professor of nursing: $165,821 from the U.S. Department of Health and Human Services – Substance Abuse and Mental Health Services Administration for the Orange County Community Health SBIRT (Screening, Brief Intervention and Referral to Treatment) Program. 
Joshua Smith, associate professor of physics: $141,237 subaward from the University of Wisconsin-Milwaukee for "Data Handling and Analysis Infrastructure for Gravitational-Wave Astronomy" project. Related: Physicists Contribute to Discovery of Black Hole
Melanie Horn Mallers, associate professor of human services, and Katherine Bono, chair and associate professor of child and adolescent studies: $122,819 from the North Orange County Public Safety Task Force, City of Stanton, for the "Fullerton Resilient Families Project."
Dorothy Woolum, professor emeritus of physics: $91,500 California Institute of Technology award for the "Genesis Samples: Analysis and Technical Enabling" project.
David Nanigian, associate professor of finance: $50,000 from TD Ameritrade for the Personal Financial Planning Program Redevelopment Initiative. Related: TD Ameritrade Grant Awarded to Financial Planning Program
Yinfei Kong, assistant professor of information systems and decision sciences: $49,175 from the University of Southern California for "Detection, Understanding and Reduction of Latino Health Care Disparities."
Dawn Macy, director of the Center for Internships and Community Engagement: $42,000 from the University Enterprises Corp. at Cal State San Bernardino for the "Disadvantaged Communities Involvement Technical Advisory Committee Project." She also received a $17,683 Tustin Unified School District grant for the "Titan Tutors at Foothill High School."
C. Jessie Jones, emeritus professor of kinesiology: $25,000 St. Joseph Hospital award for "Increase Mental Health Services at La Amistad Family Health Center."
Sergio Guerra, director of the Center for Academic Support in Engineering and Computer Science: $22,000 U.S. Department of Transportation award in support of the Dwight David Eisenhower Transportation Fellowship Program.
Kristijan Kolozvari, assistant professor of civil and environmental engineering: $15,760 UCLA award for the FEMA P695 Study – "Enhanced Ductility" RC Coupled Wall Systems project.
Bill Hoese, professor of biological science: $15,000 Beim Foundation for the "Southern California Ecosystems Research Program."
Laura Gil-Trejo, director of the Social Science Research Center: $8,608 Texas A&M University award for "Measuring Stress in Military Connected Adolescents."
Stacy St. James, coordinator of the South Central Coastal Information Center: $5,550 California Department of Parks and Recreation grant for the "FEMA Declared Disaster Record Searches."
Sheryl Fontaine, dean of the College of Humanities and Social Sciences, and Connie DeCapite, director of Fullerton International Resources for Students and Teachers: $2,000 from the international Education and Resource Network for "BRIDGE: A Project of the Steven's Initiative U.S. School Site" project.
Sawssan Ahmed, assistant professor of psychology: $1,700 award from the Center for Arab American Philanthropy for the "Arab American Muslim Emerging Adults Decimation Study."