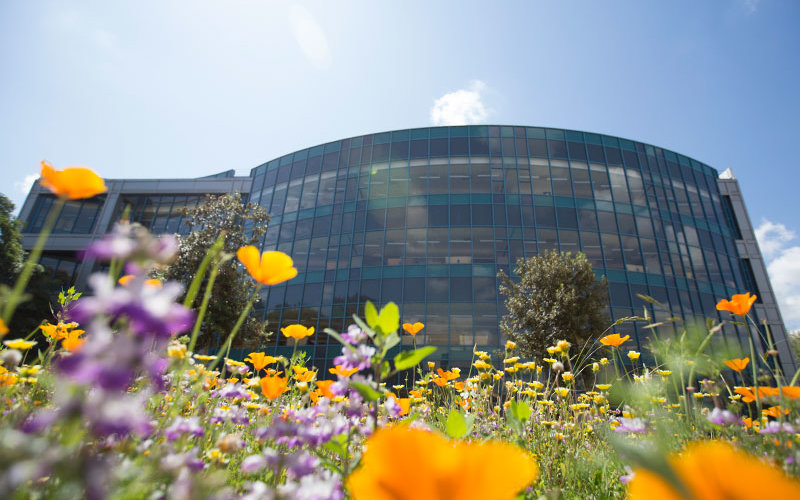 The Pollak Library, located roughly in the center of the Cal State Fullerton campus, has always been a hub of intellectual engagement. It hopes to extend that reach.
"We want the campus community to see the library as a place where they can meet, share information, get feedback and collaboration," explains Clem Guthro, dean of the Pollak Library. "We've received a lot of responses, a lot of interest."
Beginning next month, the Pollak Library hosts "Faculty Noon-Time Talks," a series of free lectures by faculty members about their research. All the programs will be held at noon in Rotary Club of Fullerton Room 130 of the library.
The first lecture will be held Monday, Feb. 5: "Pave Paradise and Put Up a Parking Lot: (Re)Imagining California's Musical Lives" by  John Koegel, professor of music.
Also scheduled for February:
Feb. 6 — "Deviated Futures & Fantastical Histories" by Bryan Cantley, professor of art
Feb. 12 — "Tweeting to Freedom: The Use of Social Media in Fomenting Revolutions Around the World" by Anthony R. Fellow, professor of communications
Feb. 13 — "Bilingual Latino Teachers in Schools: Experiences of Language Shame and Loss" by Lisa Winstead, associate professor of elementary and bilingual education
Feb. 20 — "Reconfigurable Photovoltaics (PV) Array and its Applications" by  Rakesh Mahto, assistant professor of computer engineering
Feb. 26 — "The Effects of Complex Course Requirements on Student Major Choice" by Nicholas Huntington-Klein, assistant professor of economics
Feb. 27 — "Boom  Conversation on Vietnamese California" by Jason Sexton, Boom editor and Pollak Library faculty fellow; Sarah Grant, assistant professor of anthropology; Allison Varzally, professor of history; and Phuoc Duong, lecturer in Asian American studies. 
Other lectures have been scheduled through May. A complete schedule can be found on the Pollak Library website.