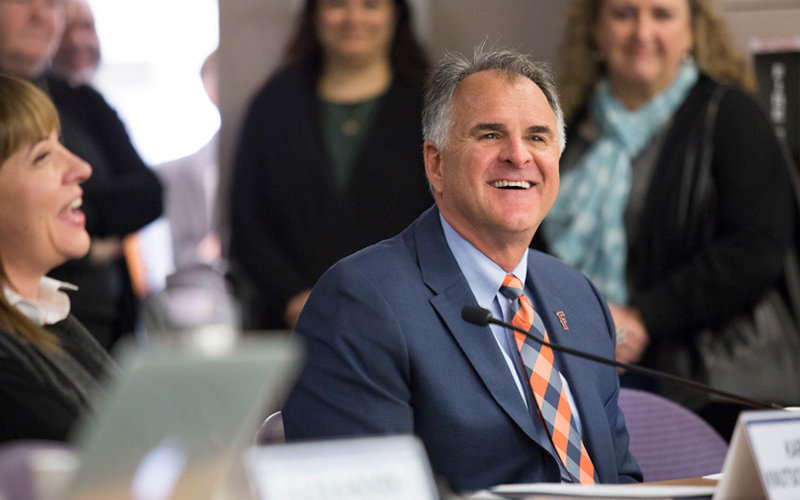 President Fram Virjee made his first official appearance before Cal State Fullerton's Academic Senate Thursday, Jan. 25, facing a standing-room only audience of senators, faculty members and staff.  
"I am very, very happy to be here," he said when introduced. "My goal is not only to tell you, but to show you, that I'm interested and want to be engaged with you.   
"I want to know you, shake your hand and call you by your first name, if you let me," said Virjee after expressing the wish that people call him "Fram," rather than "Framroze," which only his mother calls him. "I want to earn your trust."  
Virjee stressed his excitement at serving on a college campus, especially Cal State Fullerton, and his interest in engaging with all members of the campus community.  "My worst day at Fullerton," Virjee remembered telling Danielle Garcia, his chief of staff, who was sitting in the audience, "would be sitting in my office all day — even if I have visitors. I want to be out on campus, I want to see you where you work…."  
Finally, to the senators, "Thank you for being here and caring enough to be here. I look forward to working with you."  
Following the introduction of President Virjee, Academic Senate Chair Stephen Stambough also introduced former senate member Kari Knutson Miller, provost and vice president of Academic Affairs; and Bobbie Porter, the new assistant vice president of diversity, inclusion and equity in the Division of Human Resources, Diversity and Inclusion.